AllAfrica operates one of the Internet's largest public content sites and the most popular online destination for Africa news and information. The prize-winning website, allAfrica.com, serves a worldwide audience of policymakers, leaders of business and industry, international investors, analysts, diplomats, scholars and activists - decision takers of all kinds. AllAfrica logs over three million visits monthly and ten million monthly page views from all over the world. Africa accounts for 40% of a growing user base, along with rising traffic from North America, Europe and Asia. Fastest growth is coming from mobile devices, including visits to our main site and to our handheld-friendly mobile site. New content in English and French is added at the average rate of 2,000 articles per day to a searchable archive that exceeds four million stories and documents.

AllAfrica's prominence and reputation have led to its inclusion in the ranks of Google's preferred publisher group and 'authority sites'. Opinion leaders from governments, international institutions and the private sector seek coverage on allAfrica.com and offer statements whenever they have something to communicate about Africa.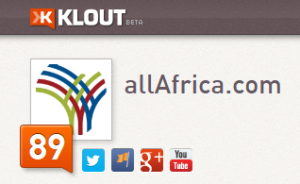 Klout, the leader in social media influence measurement, rates AllAfrica as the most influential source on Africa -- ahead of all regional and international news organizations and prominent bloggers.

In addition to broad public outreach, AllAfrica offers association with a name that has won respect, loyalty and an engaged readership. The website won nomination in two successive years as "Best News Site" (alongside such nominees as the Google and BBC news sites) by the International Academy of Digital Arts and Sciences, whose awards are called "the Oscars of the Internet".

Contact our sales team here or by telephone in our Washington, DC office on +1202.546.0777 x109.
Display Advertising
Positions and Rates
Rectangle (300x250 pixels)
Medium rectangles (300x250) pixels), which have prominent placement in the right column of each page, offer advertisers substantial display space for graphics and messaging.
| Type of Ad | Size | Cost |
| --- | --- | --- |
| Medium Rectangle | 300x250 pixels | $15 CPM |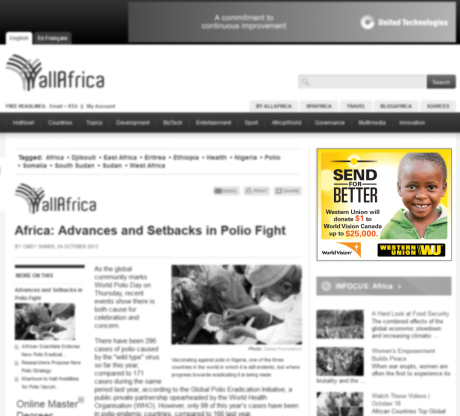 Leaderboard (728x90 pixels)
One leaderboard (728x90 pixels) appears at the top of each page, the most visible position for graphics and messaging.
| Type of Ad | Size | Cost |
| --- | --- | --- |
| Leaderboard | 728x90 pixels | $15 CPM |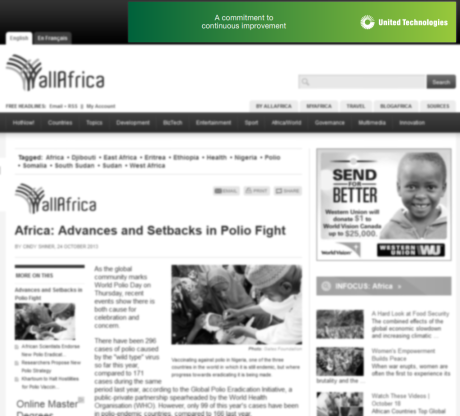 Leaderboard Bottom (728x90 pixels)
Leaderboards at the bottom of pages provide positioning that is both cost-effective and attention-catching.
| Type of Ad | Size (pixels) | Cost |
| --- | --- | --- |
| Leaderboard Bottom | 468x60 pixels | $10 CPM |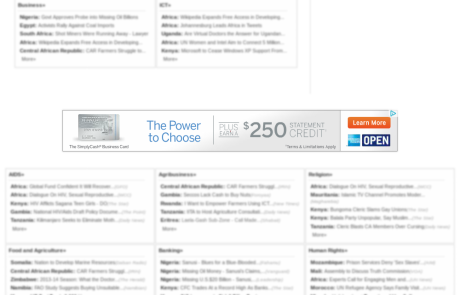 Banner (468x60 pixels)
Banners are positioned close to the end of text on headline and story pages, where they attract eye contact.
| Type of Ad | Size | Cost |
| --- | --- | --- |
| Banner | 468x60 pixels | $10 CPM |
Sponsored Content | Dedicated Sections
AllAfrica has been providing high-visibility opportunities for sponsored content for the past decade. Dedicated sections offer high-level visibility for corporate and institutional messaging and branding, highlighting activities and priorities with content is provided by the client. Updated regularly to insure accuracy and relevance to clients advertising and/or social responsibility goals, each Infocenter includes selected links to relevant pages on client web sites and/or social media pages. Content can be in English or French or both. Briefings and case studies are editorially managed resources focused on specific topics. They include original reporting by AllAfrica and African publisher partners and may also incorporate content from sponsors and/or organizations with expertise in the field. These can be one-off or sections that are updated over an extended period, as appropriate for the issue covered and the budget available. Another option is a sponsored section - prominent listing on one or more of the allAfrica country or topical headline pages, i.e. Nigeria, Kenya, Biztech, Health. EXAMPLE: Innovation - 'Powered by GE Africa'
Dedicated Section - Infocenter
| Level | Pricing/month | Description |
| --- | --- | --- |
| Top Tier | $15,000 | Logo on HOME and other section(s). Dedicated section (Infocenter) plus posting of press releases (no limit), plus distribution via the AllAfrica News Wire to corporate, media and institutional clients. Rotating banners to promote brand awareness and/or social responsibility and other messaging. |
| Premium | $8,000-$10,000 | Logo on one section or two countries or regions. Dedicated section (Infocenter)- where requested - and posting of press releases, plus distribution via the AllAfrica News Wire. Rotating banners to promote brand awareness and/or social responsibility and other messaging. |
| Standard | $5,000-$8,000 | Selected elements from above listings. |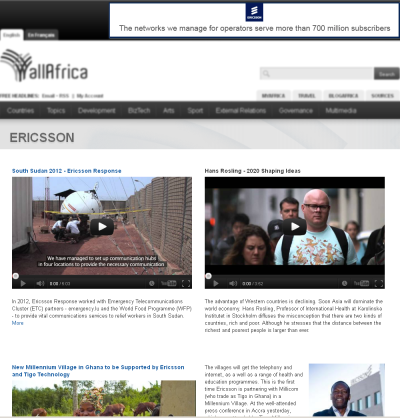 Sponsor Wire
High Visibility for Press Releases, Job Openings and Other Announcements
A banner-free space for press releases, job vacancies, general meeting and employment announcements. Reach includes a large global audience that is heavily weighted towards policy planners and decision-makers in both the public and private sector across the world.
Includes distribution to major institutional, corporate, and financial clients through Bloomberg, Factiva (Dow Jones), LexisNexis, Thomson Reuters, PR Newswire, Comtex News Network and L'Européenne de Données - services which collectively reach tens of millions of end users worldwide. More details - here.
Placement
English
French
English & French
Weekly Rates
Entire Site
$2000
$800
$2500
Home Page
$1000
$400
$1250
Home with 3 additional sections
$1400
$600
$1600
Regional Pages (north, west, east, central, southern)
$600
$250
$750
Country Pages
$600
$250
$750
Topical Pages
$600
$250
$750
Discounts for purchase of multiple sections & longer-term prepaid contracts.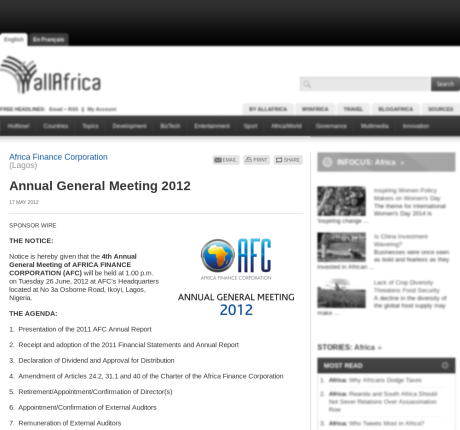 ---