The World Bank Group today committed $5 billion in new technical and financial support for energy projects in six African countries-- Ethiopia, Ghana, Kenya, Liberia, Nigeria, and Tanzania—which have partnered with President Obama's Power Africa initiative. Making the announcement on the second day of the 1st US-Africa Summit, World Bank Group President, Dr. Jim Yong Kim, said the new financial commitment was urgently needed
World Bank Collections
---
As Washington hosts the U.S.-Africa Leaders Summit this week, an ambitious but low-profile energy programme announced by President Barack Obama in June 2013 is set to move back into the spotlight. Power Africa is a U.S. government-led initiative around two-thirds funded by the private sector that aims to double the number of people with access to power in sub-Saharan Africa by 2018, connecting 20 million new customers.
President Obama addresses the U.S.-Africa Leaders Summit Business Forum on August 5, 2014.
---
Ghana Power Compact Signing Ceremony: On August 5, 2014, in a ceremony at the U.S. Department of State, MCC signed a .2 million compact with the Government of Ghana to transform the country's power sector by investing in projects focused on distribution, energy efficiency and renewable energy.
Remarks delivered by Paul Hinks, CEO of Symbion Power LLC, to the 'Power Africa' luncheon sponsored by the Corporate Council on Africa.
Just over a year ago, on a bright sunny day I stood at a power plant in Dar es Salaam, Tanzania listening to President Obama tell the world about the Power Africa initiative, an ambitious program with bi-partisan support in Congress. I listened very carefully to his speech as he promised to "bring electricity to 20 million new homes and businesses and to double access to electricity in Africa"
---
Citi has pledged to source $2.5 billion in incremental capital to improve access to electricity for millions of people across Africa as part of the "Power Africa" initiative. Power Africa is a multi-stakeholder partnership between the U.S. Government, governments of several African countries and other public and private sector entities, working to accelerate investment in Africa's power sector over the next several years.
---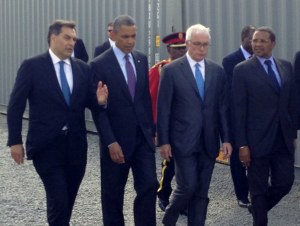 Symbion
With 'user-friendly' support from U.S. government agencies like the Export Import Bank, American companies can contribute to and benefit from the expansion taking place in Africa's energy sector. That is the view of Paul Hinks, CEO of the U.S.-based engineering firm Symbion Power, a lead participant in President Obama's Power Africa Initiative.
Energy is recognised as a priority issue in the growing United States partnership with Africa, and is among the key themes of the U.S.-Africa Business Forum being organised as an important core event of next week's U.S. Africa Leaders Summit in Washington. While recognising the role that this emerging initiative plays in elevating U.S. dialogue with Africa, a valid question could be asked about the extent to which it contributes to sustainable energy alternatives in Africa. During the ministerial, which focused on "Catalysing Sustainable Energy Growth in Africa", U.S. Energy Secretary Ernest Moniz emphasised energy infrastructure as "a critical enabler" for economic development.
---
The U.S. government is investing more than $1 billion to create about 20 million new electricity connections in sub-Saharan Africa as part of its "Beyond the Grid" Initiative. The African continent has the world's lowest rates of electrification, a fact that caught the attention of U.S. President Barack Obama when he visited the continent last year.
---
Power Africa is the U.S. Government's initiative to help increase access to power on the African continent by encouraging government and private sector partnerships. The initiative is focused on adding more than 10,000 megawatts (MW) of clean, efficient electricity generation capacity in six countries at this stage — Ethiopia, Ghana, Kenya, Liberia, Nigeria and Tanzania.
There is no debate that lack of access to energy is one of the greatest challenges facing Africa. Electricity is a prerequisite for large scale manufacturing and job creation. Countries like Uganda, Malawi, Sierra Leone provide less than eight percent of their populations with electricity, and demand across the continent is growing by double digits every year.
---
Pressure is building for Washington, DC lawmakers to pass a bill that would funnel billions of dollars of U.S. investment into strengthening Africa's electricity production and distribution capabilities, and could offer broad new support for off-grid opportunities.
---
Legislation to improve access to electricity in sub-Saharan Africa won passage in the U.S. House of Representatives in early May with bipartisan backing. Sponsored by International Relations Committee chair Ed Royce (Republican-California) and 117 co-sponsors, the bill calls for a comprehensive U.S. government approach, at no cost to American taxpayers. Similar legislation is pending in the Senate.
---
Power Africa Benefits African Development and U.S. Economy
In his regular blog for U.S. News and World Report, Corporate Council on Africa President and CEO Stephen Hayes says Power Africa "addresses perhaps the most critical need for African development." Hayes also calls on President Obama "to honor his commitment to developing Africa's power sector."
During an eight-day trip to Africa, President Barack Obama unveiled an ambitious plan to improve access to electricity across the continent, a move the White House says is designed to lift Sub-Saharan Africa out of poverty and help the region develop a stable middle class.
White House
While the initiative may appear to be a generous increase in U.S. government aid to the continent, analysts suggest that it is perhaps more noteworthy as a change in the paradigm of how the United States assists developing nations.
---
A small solar panel provides power to this house in Nimule, South Sudan.
As children throughout the United States head back to school, it's a good time to remember that schoolchildren throughout Africa often attend schools with no electricity. In areas that do have the utility, frequent power outages are a constant reminder of the need for dependable access to electricity. In June, U.S. policymakers announced two initiatives aimed at increasing electricity production in Africa. President Obama launched Power Africa, an initiative that makes a $7-billion U.S. commitment to the energy sector in six African countries.