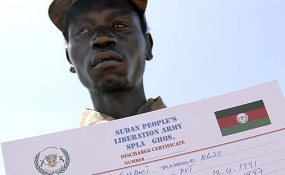 Photo: Tim McKulka/UN Photo
Tensions are rising in Sudan as the country prepares for elections in 2010 and a subsequent referendum over whether the people of South Sudan want to break away and become an independent state.
The Sudan Tribune reported from Juba on Monday that the ruling National Congress Party (NCP) in Khartoum and the dominant party in the south, the Sudan People's Liberation Movement (SPLM), are on "the verge of political crisis" over an SPLM decision at the weekend to boycott cabinet meetings of the national government.
The SPLM and NCP serve in a unity government established in 2005 in terms of the Comprehensive Peace Accord which ended a long war between north and south.
The agency also said the NCP has reacted angrily to SPLM leader Salva Kiir Mayardit's weekend suggestion that southerners should vote for independence in the referendum.
On Saturday, the Tribune reported Kiir at saying in Juba: "You want to vote for unity so that you will become a second class in your own country, that is your choice."
Kiir, apart from being president of the semi-autonomous territory of South Sudan, is vice-president of Sudan's national government.
SPLM members of parliament have been boycotting sittings of the National Assembly in Khartoum for two weeks over demands that bills preparing the way for elections and referenda should be tabled.
The Tribune says the NCP and SPLM are expected to meet to discuss the SPLM boycotts, as well as the bills - which need to be finalised before the assembly dissolves in a month's time.
Sudanese voters go to the polls in April next year. Voter registration for the election began on Sunday.