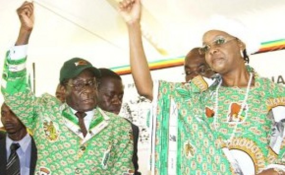 Photo: Herald
A report that 86-year-old President Robert Mugabe has been hospitalized in Malaysia for a prostate operation has generated heated debate in Zimbabwe, as well as speculation on how the development might affect the country's political prospects.
Veteran Zimbabwean journalist Peta Thornycroft reported for Britain's Daily Telegraph on Monday that after Mugabe had a medical examination while on holiday in Malaysia earlier this month, he was forced to return from Harare to Kuala Lumpur for surgery after "his prostate suddenly flared."
Thornycroft quoted diplomatic sources saying that the operation was "serious" but said that within Mugabe's Zanu-PF party, leaders were confident he would home within a week and recover fully.
Responding, party and government figures characterised the report as typical of misleading speculation around the time of Mugabe's annual holiday.
"As far as I am concerned, the President is on his annual leave and we made this public. He will be back soon," said George Charamba, permanent secretary in the Ministry of Information and Publicity.
The Zimbabwean reported that, elaborating on his comment, Charamba added that the story was a lie peddled by western media.
"It's a story that you write at the beginning of every year and I can't legitimatise that," Charamba said. "Last year you had the same story, this year you have the same story. Are you not tired?
"Look it's a story that was written by a white girl, you and me are blacks, let's not waste time on things are not true."
However, diplomatic sources in Harare told the Independent newspaper group of South Africa on Tuesday that this time the reports were "real" and that the battle to succeed Mugabe had intensified in Zanu-PF.