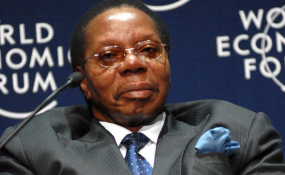 Photo: WEF
The Malawi government has informed the British Foreign and Commonwealth Office in London that High Commissioner Fergus Cochrane-Dyet is "persona non grata" in the impoverished southern African nation, reports Maravipost.com.
Cochrane-Dyet angered the Malawi government by saying President Bingu wa Mutharika was "a combative president" who is increasingly becoming "autocratic and intolerant of criticism".
"The governance situation continues to deteriorate in terms of media freedom, freedom of speech and minority rights," the British envoy said.
The information was reportedly contained in a leaked cable which had been sent to Foreign Secretary William Hague.
The British envoy also wrote that the interaction between the Mutharika administration and civil society leaders was problematic.
"There is a real risk that the President vitriolic rhetoric will prompt his supporters to take unauthorised action against civil society or faith group activists (like Henry II's knights)," he said in the leaked cable.
"They seem genuinely afraid," Cochrane-Dyet said, adding that "the office of one high profile activist has allegedly been raided".
The British High Commission Vice-Consul Lindsay McConaghy has responded by saying that "there will be serious consequences for Malawi".