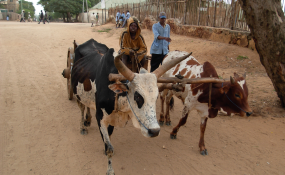 Photo: Tomas de Mul/IRIN
By Cindy Shiner
Scientists have discovered two genes in cattle that may help African farmers improve their livelihoods by preventing premature deaths in their herds from the trypanosome parasite that causes "sleeping sickness".
The illness causes an estimated U.S.$5 billion in livestock losses annually for African farmers across an area roughly the size of the United States. The zone stretches from Senegal on the west coast to Tanzania on the east and from Chad in the north to Zimbabwe in southern Africa. It is known as the "tsetse fly belt" after the insect that transmits the trypanosome parasite.
The parasite is best known for causing illness in humans, but the more devastating effect on Africans has been on their cattle and livelihoods.
"Trypanosomiasis is probably the single largest disease affecting African cattle and restricts what farmers can do in large parts of Africa, so it's very difficult to use cattle either for grazing or more importantly for agriculture, for plowing and pulling carts," said Harry Noyes, a scientist at the University of Liverpool. Africans also keep livestock for milk and fertilizer.
Noyes co-authored the report of the study's findings, published in the Proceedings of the National Academy of Sciences on Monday. The discovery is a culmination of research by scientists at the Nairobi-based International Livestock Research Institute (ILRI) and Britain's universities of Liverpool, Manchester and Edinburgh, and others.
Cattle Differences
Scientists reached their breakthrough after noting that the humped cattle breeds that are characteristic in much of Africa are susceptible to trypanosome parasites, while N'Dama, a humpless West African breed, is not seriously affected by the disease.
"What's been particularly interesting about this discovery is that the cows that are resistant, they still get infected, and you can find parasites in the bloodstream, but they don't suffer from symptoms," Noyes said. "The cows that are susceptible tend to suffer from severe anemia. Farmers don't generally treat the cattle when the parasites are there; they only treat them when they become anemic."
He said the anemia is likely caused by reaction of the cattle to the parasite, rather than directly by the parasite, while the resistant cattle have found a way of controlling the parasite without developing the symptoms.
Breeding Healthier Cattle
Noyes said that having identified the genetic differences should make it possible to breed cattle that are more productive.
Scientists at ILRI have already begun breeding a small group of cattle carrying one of the genes to test their predictions. If their theory is confirmed, it would be possible to breed a larger group of cattle and also to provide the information to cattle breeders in other countries, Noyes said.
He said scientists would be able to confirm in about three years whether the first gene they're testing has a benefit.
"After that it's very much a question of how fast the farmers can respond," he said. "But it's the governments that provide advice to farmers and also the agricultural extension and training organizations. [Their ability to respond] is likely to be as big an obstacle as the basic research."
Infrastructure Challenges
Noyes said that although the research has produced valuable information, the means of disseminating it in Africa are not ideal.
"A lot of the agricultural extension programs that developed in the 1970s and 80s have folded for lack of funding. So the infrastructure isn't necessarily there to disseminate this information," he said. "It's where further investment needs to be provided to help farmers make use of the new developments in cattle breeding."
Noyes said developing bulls that can carry the gene and then using semen from those bulls to breed would be one way of distributing the gene quite quickly. But it would have to be done as part of a controlled breeding program.
"A lot of the facilities for doing that are not available in large parts of Africa I think this example raises that as an issue. There's an awful lot that can be done to improve African cattle if there were systematic breeding programs in place and infrastructure available to make those animals available," he said.