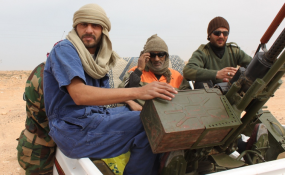 Photo: Al Jazeera
A United States congressman says the top U.S. military commander in the international military campaign against Libya has admitted that Nato is trying to kill Colonel Muammar al-Gaddafi.
The Cable, a reporting service of the Washington-based Foreign Policy magazine, reports that Mike Turner, a member of the Armed Services Committee of the U.S. House of Representatives, said the admission was made by Admiral Samuel Locklear, commander of the Nato Joint Operations Command in Italy.
Turner, a Republican opponent of President Barack Obama, is opposed to U.S. government support for Nato air strikes against Libya.
He told the news service that the United Nations Security Council had authorized the imposition of a blockade of the Tripoli regime, a no-fly zone over Libya and the protection of civilians.
"And Admiral Locklear explained that the scope of civil protection was being interpreted to permit the removal of the chain of command of Gaddafi's military, which includes Gaddafi," Turner reportedly told The Cable.
"I believed that we were [targeting Gaddafi] but that confirmed it... I believe the scope that Nato is pursuing is beyond what is contemplated in civil protection, so they're exceeding the mission."
Last Friday Turner joined other Republicans, and some Democrats, to reject a bill authorizing U.S. involvement in the military action against Libya. However, another bill, which would have cut funding for the action, failed to pass.