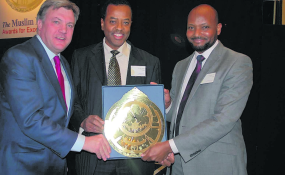 press release
Dahabshiil, the largest African international payments firm, has been honoured with the Excellence for Enterprise award at the 2013 Muslim News Awards ceremony at Grosvenor House in London, UK. Dahabshiil received the Ummul Mu'min Khadijah Award for its vital role in fostering social development and increasing financial stability in developing countries through remittance finance. The award was presented by the Shadow Chancellor, Ed Balls.
Abdirashid Duale, CEO of Dahabshiil Group, said: "Dahabshiil is extremely proud and honoured to have received the Excellence for Enterprise award."
"As a business, we pride ourselves on our enterprising spirit, guided by strong values of trust, integrity, accountability and transparency. Commitment to community support and strong corporate social responsibility are core principles that are critical to the future success and sustainability of the company."
The Muslim News Awards for Excellence celebrate faith-based identity and help profile modern-day role models. An independent panel of judges drawn from a variety of sectors selected nominees across fifteen award categories ranging from business, science and technology to sport and religious engagement.
The 2013 awards ceremony was attended by civic and religious leaders, as well as representatives from the worlds of UK politics and business. Among those in attendance was Justice Secretary, Chris Grayling.
The leaders of the all three main political parties sent messages to the nominees. The Prime Minister, David Cameron, congratulated the winners, highlighting the important contribution that Muslims make to Britain, particularly in business.
He added: "Every nominee has achieved excellence in their own right but a common thread that shines throughout is how their achievements have strengthened Britain as a whole men, women and children who selflessly have given up their time, promoting Islamic values of peace and unity for the benefit of us all."
Ahmed Versi, editor of The Muslim News, said: "We are proud to honour Dahabshiil with the Ummul Mu'min Khadijah Award. Dahabshiil has made a significant contribution to economic and community development, particularly over the past year, and was the outstanding nominee in a very tough category."
"The business is distinguished for its entrepreneurialism, operating across difficult regions while using its services to help foster social development."
The 2013 Excellence for Enterprise award represents the latest accolade awarded to Dahabshiil following the 2010 Mayor of Tower Hamlets Award for excellence in the community, and the International Association of Money Transfer Networks (IAMTN) Top Manager of the Year award in 2008. Earlier this year, Abdirashid Duale, CEO of Dahabshiil, was named by respected publication, Africa Report amongst the fifty most influential Africans.