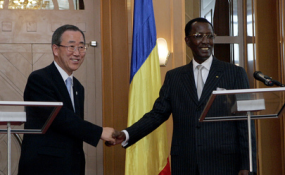 Photo: Evan Schneider/UN Photo
Cape Town — African leaders participating in a special summit on the conflict in Central African Republic have reportedly decided that it was impossible to recognise rebel chief Michel Djotodia as president, according to AFP.
The heads of state want the country to elect a transitional president, the news agency quotes Chadian President Idriss Deby as saying at the end of the summit.
"As things stand now, it is impossible to recognise a self-proclaimed president," Deby told journalists. "A committee selected by national figures must lead the transition. This body will have the executive role and must vote for a transitional president", serving no longer than 18
months.
AFP reports that Deby said a legislative body would also be established in Chad's southern neighbour "which will draw up a constitution and take on the role of parliament".
Starting Thursday, a mission made up of ministers from the Economic Community Of Central African States (ECCAS), its partners and representatives from the African Union, the European Union and the international organisation of French-speaking states will go to the Central African capital Bangui "to take the message to Central Africans", Deby said.
Shortly afterwards, South African President Jacob Zuma announced the withdrawal of the country's troops from CAR, almost two weeks after several soldiers were killed in clashes.
Djotodia has promised elections in three years, but the international community is expected to press him to accelerate the transition.