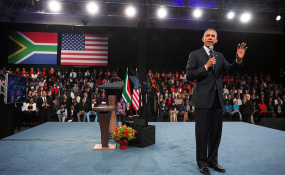 Photo: Pete Souza/White House
document
An excerpt from President Obama's speech at the University of Cape Town:
...[P]rogress has also rippled across the African continent. From Senegal to Cote D'Ivoire to Malawi, democracy has weathered strong challenges.
Many of the fastest-growing economies in the world are here in Africa, where there is an historic shift taking place from poverty to a growing, nascent middle class. Fewer people are dying of preventable disease.
More people have access to health care. More farmers are getting their products to market at fair prices. From micro-finance projects in Kampala, to stock traders in Lagos, to cell phone entrepreneurs in Nairobi, there is an energy here that can't be denied -- Africa rising.
We know this progress, though, rests on a fragile foundation. We know that progress is uneven. Across Africa, the same institutions that should be the backbone of democracy can all too often be infected with the rot of corruption. The same technology that enables record profits sometimes means widening a canyon of inequality. The same interconnection that binds our fates makes all of Africa vulnerable to the undertow of conflict.
So there is no question that Africa is on the move, but it's not moving fast enough for the child still languishing in poverty in forgotten townships. It's not moving fast enough for the protester who is beaten in Harare, or the woman who is raped in Eastern Congo. We've got more work to do, because these Africans must not be left behind.
And that's where you come in --- the young people of Africa. Just like previous generations, you've got choices to make. You get to decide where the future lies. Think about it -- over 60 percent of Africans are under 35 years old. So demographics means young people are going to be determining the fate of this continent and this country. You've got time and numbers on your side, and you'll be making decisions long after politicians like me have left the scene.
And I can promise you this: The world will be watching what decisions you make. The world will be watching what you do. Because one of the wonderful things that's happening is, where people used to only see suffering and conflict in Africa, suddenly, now they're seeing opportunity for resources, for investment, for partnership, for influence.
Governments and businesses from around the world are sizing up the continent, and they're making decisions themselves about where to invest their own time and their own energy. And... that's a good thing. We want all countries -- China, India, Brazil, Turkey, Europe, America -- we want everybody paying attention to what's going on here, because it speaks to your progress.