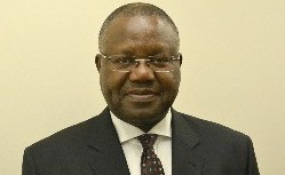 guest column
By Kordje Bedoumra
On August 1, Chad obtained the approval of the Executive Board of the International Monetary Fund (IMF) to institute a three-year program under its Extended Credit Facility for about U.S. $122.4 million, with a first disbursement of about $20.4 million.
The IMF's debt management initiative is part of a national poverty reduction program that also includes increasing the country's revenue and attracting private sector investments. Although the IMF forecasts Chad's GDP to grow by 10.8 percent in 2014, which is a steep increase from 3.6 percent in 2013, managing the fiscal policy and public debt is fraught with regional challenges.
Chad falls under the IMF and World Bank's Highly Indebted Poor Countries (HIPC) Initiative, which ensures that no poor country faces a debt burden it cannot manage.
The key goal for launching the HIPC program in Chad is to leverage the improved management of the country's increasing oil revenue and growth, with a focus on environmental sustainability, low inflation, and improved public sector management, all of which will drive positive GDP gains in service of the Chad population.
Chad's national budget has also absorbed the costs of repatriating its citizens from the Central African Republic (CAR) after the conflict there, as well as the cost of hospitality for tens of thousands of refugees from surrounding countries.
Currently, the United Nations Refugee Agency ranks Chad second among African countries with the most refugees. We host more than 650,000 refugees, including more than 359,000 from Sudan, 106,650 from the CAR, and thousands from Nigeria fleeing the atrocities of Boko Haram. There are also several thousand refugees of different nationalities who live in the big cities, including the capital, N'Djamena.
The Chad government has also absorbed budget increases due to our military role in bringing stability to Mali and CAR, and the need to secure our borders against the impact of the security challenges in Libya, Sudan and, more recently, Nigeria.
All these challenges - as well as the geographical realities of increased desertification in a country where agriculture and livestock export are a primary source of growth, and focusing on the country's security and stability over the last six years - are what make progress with Chad's debt management akin to making headway in a desert sandstorm.
Thus far, we are adjusting our fiscal policies and our debt management to cope with the adverse circumstances, and our highest authorities are improving partnership relationships with neighboring nations and with various donor countries so we can stay the course.
Macroeconomic Indicators
Like most of Africa, Chad has made remarkable economic progress in the last 10 years.
Although the key driver of our economic progress is oil production that began in 2003 with the completion of a $3 billion pipeline, we have also been working hard to diversify the economy.
In 2013, Chad's macroeconomic performance was relatively strong. The GDP grew by 3.9 percent, despite a contraction in oil production; and non-oil GDP expanded by 5.9 percent, down from 11.6 percent in 2012.
Due to a fall in food prices, inflation fell sharply, with the annual average rate at only 0.2 percent, down from 7.7 percent in 2012.
The fiscal situation also improved markedly in 2013, even though the non-oil primary deficit fell by 2.5 percent of non-oil GDP. This was due to a significant increase in non-oil revenue, a contraction in domestically-financed investment spending, and higher tax collection that increased non-oil revenue by close to one percent.
Also, the banking system is relatively sound; in 2013 its total assets grew by 23 percent to reach a figure equivalent to 13 percent of GDP.
What Lies Ahead?
The HIPC debt management program is expected to mobilize greater internal and external momentum towards poverty eradication for Chad. We will continue making progress through the "desert sandstorm" in two ways: first, by anticipating unpleasant surprises; and second, by better management when we are caught in the midst of a storm.
We are committed to continue improving the regulatory reforms for small and medium-sized businesses in order to attract increased foreign non-oil investments in agriculture and tourism.
And Chad is pursuing options to expand oil revenue by tapping into new oil feeds and by signing a new treaty with Niger to begin exporting oil through the Chad and Cameroon pipeline in 2016. Chad recently renegotiated an improved partnership with Glencore to allow Chad to acquire Chevron's share of 25 percent of the Oil Consortium. This new deal is critical for Chad; it will it will transform the country into a real oil producer while significantly increasing its production.
Kordje Bedoumra is currently the Republic of Chad's Minister of Finance and Budget, after having served as secretary general in the Presidency and also as Minister of Economy, Planning and International Cooperation. He was previously vice president in charge of Human Resources and Corporate Services at the African Development Bank, where he served for 29 years.