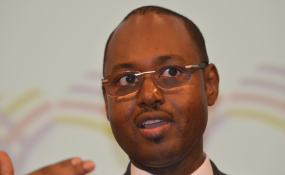 announcement
AllAfrica's co-founder and executive chair, Amadou Mahtar Ba, has been appointed to the United Nations' first-ever High-Level Panel on Women's Economic Empowerment.
The establishment of the panel was announced on Thursday in Davos, Switzerland, by UN Secretary-General Ban Ki-moon.
UN Women, the UN's instrument for promoting gender equality and the empowerment of women, said in a press release accompanying the announcement that the panel would "help tackle gender gaps in economic opportunities and outcomes which persist around the world..."
It added: "Research shows that women invest their income back into their families and communities, including in health and education... Yet women continue to earn less, have fewer assets, bear the burden of unpaid work and care and be largely concentrated in vulnerable and low-paying activities."
Ban Ki-moon said empowering women was "a global imperative". He added: "[D]espite important progress in promoting gender equality, there remains an urgent need to address structural barriers to women's economic empowerment and full inclusion in economic activity.
"If the world is to achieve the Sustainable Development Goals, we need a quantum leap in women's economic empowerment."
In 2014, Forbes magazine named Ba as one of the 10 most powerful men in Africa. He has been included for three years on the New African Magazine list of the 100 most influential Africans and was also listed in the top 500 Africans contributing to the rise of the continent by Africa24 Magazine.
See full details of the UN Women announcement here.