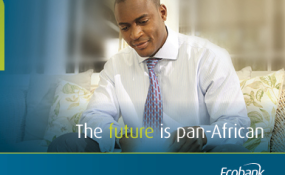 Photo: Ecobank
press release
Ecobank Transnational Incorporated (ETI), parent company of the pan - African Ecobank Group, today concluded its 28th Annual General Meeting (AGM) and a separate Extraordinary Meeting at the company's head office in Lome.
ETI declared a dividend of USD 48.2 million. This key meeting outcome follows two years during which ETI did not declare a dividend. The general meeting approve d the company's accounts for the 2015 financial year and the appropriation of its profits, which amounted to USD 60.77 million .
The meeting renewed the mandate of Dr. Daniel Matjila (representing Public Investment Company/Government Employees Pension Fund) for another three years. It also ratified the co - option of Messrs. Abdulla Al Khalifa (representing Qatar National Bank), A de Ayeyemi (Ecobank Group Chief Executive Officer) and Mfundo Nkuhlu (representing Nedbank Group Limited) as directors.
Mr. Ignace Clomegah and Mrs. Catherine Ngahu were elected as directors. The meeting approved there - appointment of joint auditors Delo itte Nigeria, and Grant Thornton, Côte d' Ivoire for a term of a one - year term.
A separate Extraordinary Meeting saw various other resolutions passed. With regard to the consolidation of shares, a resolution was passed authorising that the nominal value of the ordinary shares of the company be increased from 2.5 US cents per share to 50 US cents per share. This would be done by consolidating every 20 ordinary shares held into one new ordinary share each, and issuing in replacement, new ordinary shares of 50 US cents each.
About Ecobank
Incorporated in Lom é , Togo, Ecobank Transnational Incorporated (' ETI ') is the parent company of the leading independent pan - African banking group, Ecobank. It currently has a presence in 36 African countries, namely: Angola, Benin, Burkina Faso, Burundi, Cameroon, Cape Verde, Central African Republic, Chad, Congo (Brazzaville), Congo (Democratic Republic), C o te d ' Ivoire, Equatorial Guinea, Ethiopia, Gabon, Gambia, Ghana, Guinea, Guinea Bissau, Kenya, Liberia, Malawi, Mali, Mozambique, Niger, Nigeria, Rwanda, Sao Tome and Principe, Senegal, Sierra Leone, South Africa, South Sudan, Tanzania, Togo, Uganda, Zambia and Zimbabwe. The Group employs over 20,000 people in 40 different countries in over 1,200 branches an d offices. Ecobank is a full - service bank providing wholesale, retail, investment and transaction banking services and products to governments, financial institutions, multinationals, international organizations, medium, small and micro businesses and in dividuals.
Additional information on Ecobank can be found at ecobank.com.
Media Contact :
Richard Uku
Group Head, Corporate Communications
Ecobank Transnational Incorporated (ETI)
2365, Boulevard du Mono Lomé, Togo
Tél.: +228 22 21 03 03
Email : ruku@ecobank.com
Twitter: @Group Ecobank or @richard_uku
Web : ecobank.com