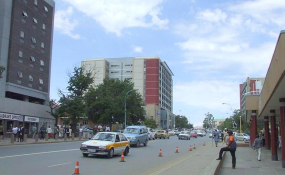 Photo: Michael Denne/Wikipedia
Cape Town — The editor of an independent Lesotho newspaper is fighting for his life after being shot at the weekend in the latest attempt on the life of a perceived opponent of the government.
The Lesotho Times announced that its editor, Lloyd Mutungamiri, was shot at his home in Maseru.
The Southern African Human Rights Defenders Network was reported as saying unidentified assailants attacked Mutungamiri late on Saturday night. He is being treated in a Maseru hospital.
The shooting came days after the Lesotho Times reported that its owner, Basildon Peta, had been charged with defamation and crimen injuria over a satirical column which criticised the commander of the Lesotho Defence Force, Lieutenant-General Tlali Kamoli.
Since Kamoli's appointment by Prime Minister Pakalitha Mosisili last year, his predecessor, Brigadier Maaparankoe Mahao, has been assassinated, there have been attacks on opposition figures, the army has resisted court orders to release detained soldiers and a commission of inquiry set up by regional heads of state has called for Kamoli's dismissal.
Mosisili's government at first resisted receiving the commission's report and has since been resisting implementing its findings.
The Times reported that its column about Kamoli "satirized the perceived influence of the LDF commander by telling a joke about a hypothetical 'invasion' of a cabinet meeting."
It added: "The detectives who interrogated Mr Peta said the column in question had 'gone way off the mark' and had severely tarnished the reputation of the LDF commander... They also accused the Lesotho Times of being anti-government."
Lesotho has been plagued since soon after independence in 1966 by factionalism and defiance of the law from within the security forces.