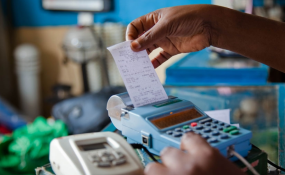 Photo: The New Times
By Bernard Lugongo
As academicians and analysts welcome President John Magufuli's plan to introduce a centralized tax collection system, the e-Government Agency (e-GA) guarantees that it will use sophisticated technology to protect the information flow from hackers.
President Magufuli said recently that the envisaged system aimed at monitoring the status of the government revenues and avert theft of public funds.
After he welcomed Rwandan counterpart Paul Kagame on July 1, this year, Dr Magufuli unveiled his government's strategy to install the system at the Ministry of Finance and Planning where the minister of the docket could know at any time the money collected by different government institutions. Dr Magufuli noted that the current tax collection system makes it easier for businesspeople and fraudulent public officials to reap off public money.
President Kagame assured President Magufuli that his country will offer its Information and Communications Technology (ICT) experts to help install the new system. Chief Executive Officer (CEO) of the e-GA, Dr Jabiri Bakari, said they were looking forward to meeting and learning from Rwandan experts and see how the installation could go so as to put the President's plan into practice.
"In constructing the system, we will take into account the security threats by adopting most up-to-date technology," Dr Bakari said, noting that the focus would be to strengthen both tax and non-tax collection.
Commentators who spoke with the 'Daily News' through a telephone interview reacted with high expectations that the plan, if implemented, would bring about efficiency in financing government budgets in future.
Mzumbe University senior lecturer Prof George Shumbusho said it was good that President Magufuli has learnt from Rwanda which has effective tax collection system.
"This is a commendable decision given the fact that the country has been losing a lot of money to unscrupulous public officials, something which has been one of the factors for shortfalls in financing government budgets," said Prof Shumbusho. "With this system, the government may be able to fund its budgets by 100 per cent," he added.
Prof Honest Ngowi, also a senior lecturer with the Mzumbe University, agreed with the government plan as he underscored the importance of making reforms in the tax collection in order to plug loopholes used by dishonest public officials to siphon off funds.
However, Prof Ngowi advised that the installation of such new system should take into account the costs. "It's crucial to put in place tax collection monitoring, but its construction costs must not cast burden to taxpayers," he said.
Prof Ngowi further suggested that the capacity of government institutions collecting taxes -- Tanzania Revenue Authority (TRA), district and municipal councils-- need to be strengthened. On this, according to Prof Haji Semboja, the decision came at the right time since even development partners were keen to see the country adopt an integrated monetary system for monitoring.
"I can advise the President that since he had declared he has to make sure that it is implemented.
The system would bring transparency in tax collection," he said.
He went on cautioning that once the system is in place the government has to have proper information monitoring system that would protect flow of tax information from hackers. President Magufuli was confident that Rwanda was well developed in ICT, thus offering its experts provides assurance of establishment of a robust and tamper-proof system.
President Magufuli unveiled the plan to install the new system just a day after it was uncovered that a businessman had allied with four government institutions to evade tax which saw the government losing trillions of shillings since 2010.