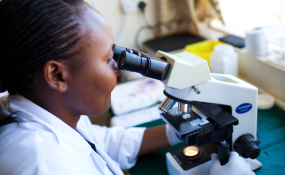 Photo: Eric Becker/PATH
guest column
By Yolanda Moyo, PATH South Africa, and Pauline Irungu, PATH Kenya
This week, global health experts, advocates, and policymakers return to Durban for the 21st International AIDS Conference. Much has changed since the last time the conference was held there in 2000. A milestone in the fight against HIV/AIDS, it was the first global gathering focused on the epidemic held in a developing country. It ignited widespread advocacy for access to medicines that resulted in massive scale-up of treatment across Africa. Yet today still as many as 1.5 million people globally die from AIDS-related causes each year. More than 2 million people are newly infected annually. Despite promising advances, we still do not have a vaccine or a cure.
As we mark the return to Durban, and in the spirit of that landmark event, we invite you to imagine a world where African countries invest in the research and development (R&D) needed to stop this epidemic and stand on the cutting edge of HIV/AIDS research - and to take on other top health challenges through broader health research. Imagine if local investments and actions make that dream a reality. With the right steps forward, it is possible that a "leapfrogging technology" - one that results in a rapid change in health for entire populations - or even a cure for HIV would come from laboratories in Africa.
Our countries, Kenya and South Africa, have shown leadership and promise in innovation across the spectrum of health issues. But we know that nurturing this promise requires leadership that is prepared to invest in long-term gains. If African leaders rise to the challenge, we can achieve a robust pipeline of health products made in Africa, for Africa, while at the same time driving economic growth.
A heavy toll
We have seen the toll HIV/AIDS has taken on our respective countries, South Africa and Kenya. We can personally attest to it, having buried close relatives, taken care of orphans, and seen how it continues to affect the health of people and health systems. While the good news is that new HIV infections have declined by 43% in South Africa and 37% in Kenya since 2000, we still have millions of people living with HIV. In fact, South Africa has the highest number, amounting to approximately 6.8 million people in 2015. The fact that millions of people are now receiving antiretroviral therapy is remarkable and a testament to the political commitment of our governments. But we must aim higher. We must ask ourselves, can't this be better?
A source of innovation
We do not have to wait for our problems to be solved by richer countries half a world away. Let's have African solutions to African problems. We have seen game-changing innovation come from South Africa and Kenya. The HIV/AIDS epidemic has forced our countries to invest in our health workforce and train a new generation of health researchers. Through collaborative efforts, we have built infrastructure for R&D in both countries and learned how to deliver transformative innovations at scale through more resilient health systems.
South Africa is leading the way in HIV/AIDS research, but both countries have made remarkable advances in treating not just HIV but also co-infections like tuberculosis (TB). AIDS vaccine clinical trials of the top quality are being conducted in both countries, and promising breakthroughs have occurred that leave us with hope that we will have a vaccine soon. Beyond vaccines, research centers in Kenya and South Africa are on the cutting of other research into prevention and treatment such as voluntary male circumcision, pre-exposure prophylaxis, and digital health solutions for improving adherence to treatment.
Stagnating investments
With the right investments, we can develop innovations that will save South African and Kenyan lives, as well as the lives of our brothers and sisters across the continent and around the world. However, investments in R&D for HIV/AIDS have remained roughly stagnate for nearly a decade, as have investments in R&D across the spectrum of health R&D. Governments must fulfill their commitments to tackle these epidemics and improve health across the range of diseases and conditions affecting our populations.
Strength in numbers
That is why at PATH, an international nongovernmental organization focused on saving lives and improving health through innovation, we have recently joined with a diverse group of organizations in both South Africa and Kenya to establish unique national coalitions focused on advancing global health R&D. These coalitions are advocating for increased investments in and access to lifesaving technologies across all health areas.
Specifically, in Kenya, the Advocacy Coalition for Health Research and Development (CHReaD), is dedicated to ensuring the Kenyan government fulfills its commitments to invest in and pass supportive policies for health R&D. The South Africa Health Technologies Advocacy Coalition (SAHTAC), is focused on financing, policies, and civil society engagement to meet the needs of its growing population and economy.
We believe that academics, researchers, and advocates must come together to demand that our nations invest in their people. And we must not focus only on the immediate. We must look ahead to the new tools we need to combat current and emerging threats.
If African leaders invest in health innovation, we can not only save millions of lives but also make Africa a robust hub for health innovation, and a source of new thinking and hope for the world. We welcome you to join this ambition, so that "made in Africa" becomes more and more of a reality across the health spectrum.
Yolanda Moyo is a policy officer at PATH's South Africa office. Based in Johannesburg, she leads PATH's advocacy for improved R&D policies and investments in South Africa.
Pauline Irungu is an advocacy and policy manager at PATH in Kenya. Based in Nairobi, she leads PATH's advocacy for stronger policies and investment in maternal, newborn, and child health at the national and county level, as well as for global health R&D in Kenya and the East African Community.