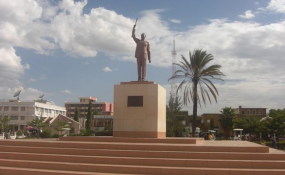 Photo: Daily News
column
By Amby Lusekelo
It is going down in Dodoma! All hell broke loose this week when the president of the United Republic (who, mind you, happens to be my uncle) announced that he is moving the government to Dodoma.
Uncle John said that before his presidential term of five years is complete, the government will be operating from the designated capital.
'Hapa Kazi Tu' will be coming live and direct from Dodoma. I had mixed feelings about this from the getgo. First of all, yes, please make it happen as soon as possible. Move everyone and leave Dar to us, the under-dogs who want nothing to do with politics.
I'm not a fan of politics but that's a story for another day. Politics is downright exhausting but more importantly I'd love to be able to drive down a road without an STK or an SU car trying to bully me off the road because they want to overtake me. Again, the under-dogs receive no mercy. Government car drivers are the worst kind of bullies with their big expensive cars that they did not buy or spend any shilling on.
In fact, I'm foot the bill for maintaining them through all these taxes I patriotically pay. Meanwhile, my little car means the world to me and I also pay out of my pocket to maintain it on the road. The only difference is that for the STK and SU cars it is a collective effort by many Tanzanians but my car is my solo effort. You see the issue there.
But then after the initial celebrations I thought for a moment- does that mean that we will now have to travel to Dodoma to get basic government services? Wait, just a darn minute now. What exactly does that move mean to the under-dogs?
I went to three government offices last week in search of this, that and the other- does this mean that I will have to go to Dodoma for state services? Maybe, I can share the road with the demonic STK and SU drivers from hell.
That aside; Dodoma is about to become the most expensive city in the country and I have a strong miser gene that has been passed on from generation to generation.
There was a report on the news a few days after the move to Dodoma was announced that said that the price of plots of land had risen by more than 300 percent. The report further said that the local land authorities were overwhelmed by the demand for land by people who are expecting to move.
The reporter stopped shy of stating that there could also be a rise in the price of Dodoma wine. But does this mean there will be a drop in the prices of houses in Dar? Will I finally get to have my dream house overlooking the Indian Ocean and five minutes, 23 seconds from the city centre during rush hour? Because if there is anything good coming from all this is that, Dar traffic will reduce and that is a great thing no matter how you look at it.