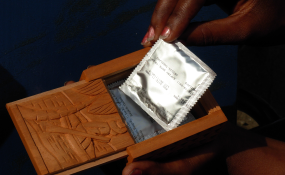 Photo: Mercedes Sayagues/PlusNews
By Sarah Nakimbowa
Music blares from an omnibus as it passes the small shops and businesses of Kasana Village that lies in Buganda central region of Uganda. Then the village information chairperson Isaac Kigozi comes on the radio calling for people to come for HIV testing and counselling, condom distribution and prizes which have been organised by Community Health Alliance Uganda (CHAU). Young people follow the car, distributing leaflets and condoms while dancing to a mixture of Nigerian, Congolese and Ugandan music.
Accompanying the convoy are two medical doctors and five counsellors from the HIV/AIDS clinics of Mildmay Entebbe and Kasana health centre IV in Luwero District. Throughout the day and into the evening, young people, men and women and community farmers returning from the fields, gather to enjoy the music and dancing, while listening to talks about sexual reproductive health rights, including messages on proper condom use, faithfulness to partners and encouraging everyone gathered to live a positive life without re-infecting others.
The event is known as a flash mob, and is one of the techniques that has been used by CHAU to raise awareness of sexual and reproductive health and HIV among young people, as part of the International HIV/AIDS Alliance's three-year Link Up project that ended in July.
Flash mobs are performances by a group of people who assemble suddenly in a public place, and are a creative way of attracting other young people to come and hear messages about safer sex, relationships, accessing health services, condom use and also staying healthy, explains Gracie Nakazzi, CHAU team leader for community engagement.
"They can take place anytime, anywhere from shopping centres to market places. The aim is to surprise and thrill the unsuspecting audience with performance before dispersing back into the crowd as if nothing happened,"she explains.
She says the technique is a new way of using dance and music in promotion of health messages. The street dancing is led by young people living with HIV or affected with HIV. "It is young people who come up with real life experience or interest in HIV contribution to communities," adds Nakazzi.
Why they dance
Dancer and peer educator Joan Nakintu* was born with HIV and has lived positive for the last 21 years with her aunt, after both her parents died when she was two years old. Her aunt could not tell her status but took good care of her. However, going to school was impossible for Nakintu because she was very weak and spent most of her time in hospital. She explains: "I remember rumor in the community had it that I was bewitched, but the counsellor reassured me that being HIV positive did not mean I was going to die the next day, but I cried bitterly wondering why it had to be me.
"I was introduced to Link Up project while at Kisakye youth centre (clinic for young people living with HIV at Mildmay Uganda). I was selected as a peer educator and I chose informing and educating young people through drama and dancing," she recalls.
Becoming a peer educator involved five days of training in sexual reproductive health rights and HIV services in communities. "I have been an inspiration as a role model to many young people who didn't want to disclose their status and I have encouraged many to adhere to ART," she says.
For example, on this morning Nakintu visited a remote village called Rwampanga in the Luwero district to deliver HIV outreach through dancing and young people's performing arts. "We are living with HIV but we can dance and enjoy life then move on,"she adds.
Nakintu says she finds giving out condoms to fellow peers whom she can talk to about the importance of not re-infecting others one of the most interesting aspects of her role.
"We have performed, and we have changed lives through flash mobs and the word to describe them is 'amazing'. I really hope that the Ministry of Health takes forward this technique of dancing as a way of reducing HIV and preach the word of sexual reproductive health rights to young people in Uganda," says Nakintu
Kato Anthony, another dancer and peer educator believes, "no one will listen to us unless we bring our drama! No one will listen to us talkabout HIV/AIDS unless we dance!
"I've seen a lot of flash mobs. But this Link Up flash mob had my jaw on the floor. Now this is how you bring a bit of joy to very stressed out travellers! And wow we are so talented!"
The 22-year-old from Naguru reveals that he acquired HIV aged 12 as a result of taking care of his uncle who was HIV positive, having shared razor blades and safety pins. Anthony says he was very angry at his uncle because for many years he was told his illness was witchcraft.
"Our neighbor visited us one day and found me bed ridden and took me to Naguru Health Centre where they told us that I was HIV positive. There I was introduced to a youth club where I resorted to drama and dancing and later joined Link Up flash mob dancers where we educate fellow young people on HIV and disclose to them, and encourage them to keep on medication and remain positively for life," he recounts.
Young people need more HIV awareness
More than 2 million adolescents are living with HIV. Although the overall number of HIV-related deaths has decreased 30 per cent since the peak in 2006, estimates suggest that HIV deaths among adolescents are rising, according to the World Health Organisation (WHO).
This increase, which has been predominantly in African countries, may reflect the fact that although more children with HIV survive into adolescence, they do not all then get the care and support they need to remain in good health and prevent transmission. In sub-Saharan Africa only 10 per cent of young men and 15 per cent of young women aged 15 to 24 are aware of their HIV status.
Young people need to know how to protect themselves and have the means to do so. This includes being able to obtain condoms to prevent sexual transmission of the virus and clean needles and syringes for those who inject drugs. Better access to HIV testing and counselling, and stronger subsequent links to HIV treatment services for those who test HIV positive, are also needed, according to WHO advice:www.who.int/mediacentre/factsheet/fs345/en/
"Young people are the key players of every movement, so they should not be neglected," says the Luwero district health officer Nakasongola Moses Zziwa. "Link Up is a unique initiative, meaningfully involving and empowering young people. CHAU provided a great space for young people in our district," he adds.
The CHAU/Link Up programme, with funding from the Dutch government, has made an impression at government level. It was implemented in 12 districts, increasing access to health and community facilities and reached almost 386,000 young people with sexual reproductive health information.
The state minister for health Elioda Tumwesigye says the programme is helping to tackle poor adherence to ARVs that can affect drug resistance. It was also helping by challenging stigmatisation within schools that can "scare children away from classes".
"I appreciate the efforts of health workers and peer educators for the successes of Link Up in Uganda," adds Tumwesigye.
*some names have been changed