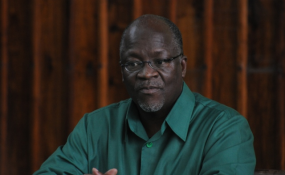 Photo: Daily News
Dar es Salaam — A Kiswahili weekly tabloid, Mseto, has been suspended for three years after the government accused it of running stories with the intention of inciting hatred against President John Magufuli.
The tabloid invoked the wrath of the authorities in an article published on August 4, this year. The article was headlined "Waziri amchafua JPM"(literal translation, "Minister tarnishes JPM image")
In a statement on Thursday, Information, Culture, Arts and Sports minister Nape Nnauye said the story was seditious.
The story was about former acting managing director of State Mining Corporation (Stamico), currently the deputy minister in the ministry of Works, Transport and Communications, Mr Edwin Ngonyani, and President Magufuli.
According to the article, Mr Ngonyani reportedly received financial support from foreign businesspersons to facilitate campaigns during last year's General Election.
It was reported in the story that some of the funds were used by Dr Magufuli during his Presidential campaign, the claims the Head of State categorically denied.
Early this year, President Magufuli said he never received financial support from both local and foreign businesspersons.
Mr Ngonyani considers the story to be seditious, saying it was aimed at creating misunderstanding or conflicts between him and the President.
According to the statement, the decision to suspend the publication of the newspaper, which started effectively on Wednesday, is under Government order No. 242.
Mseto becomes the second newspaper to be banned this year. Mawio, another Kiswahili weekly tabloid, was banned permanently in January allegedly for similar offence.