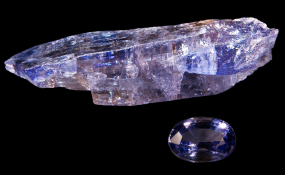 Photo: Didier Descouens /Wikpedia
By Sylivester Domasa
Members of the Maasai tribe, known for their reputation as warriors and cattle keepers, might not be aware that right on their doorsteps, unscrupulous people operate one of the most notorious gemstone smuggling ring in the world, carting away loads of the blue jewel - tanzanite - to Kenya where it is then transported to India and China.
And worse still, they might have unknowingly been used as conduits for the illegal trade that have seen Indian and Chinese tanzanite markets flourishing at the expense of the country of origin.
Surveys have shown that this can be done with impunity due to loopholes in customs duty policy for the export and import of tanzanite, mined worldwide only in the Mirerani Hills of Manyara Region in Northern Tanzania.
India, the only South Asian country mining diamond, adopted a hefty customs, excise and tax on export of the mineral but allowed its nationals to dominate the tanzanite business.
According to 'Daily News' findings, members of the warrior-tribe have turned best options for illegal tanzanite merchants following Tanzania's decision to ban the export of raw Tanzanite four years ago.
Tanzanite traders at Mirerani who spoke to the 'Daily News' said; "It has not been easy, but the herdsmen are helping to secretly smuggle the rough stones outside the country using different carrier modalities, including unsuspected oil containers."
Sources said the herdsmen are only hired by traders to help ship tanzanite across the border illegally due to tight security at Namanga, Julius Nyerere International Airport (JNIA) and Kilimanjaro International Airport (KIA) borders.
"Arrangements are made shortly after the consignment is ready for dispatch -- between traders in Arusha and Nairobi," said a trader, preferring anonymity. This has resulted in multi-million dollars worth black money being earned by tanzanite smugglers involved in such scam.
Tanzania Mineral Audit Agency (TMAA) Chief Executive Officer, Engineer Dominic Rwekaza, reveals that TMAA, Tanzania Airports Authority (TAA), Tanzania Revenue Authority (TRA) and the police force have managed to intercept smuggled minerals US$1.51 million US dollars and 34.67 million Tanzanian shillings as they were being smuggled out of the country last year.
A 2012, TMAA annual report shows that authorities also managed to apprehend minerals worth 13bn/-.
Assistant Commissioner for Minerals in the Ministry of Energy and Minerals, Engineer Benjamin Mchwampaka, said his ministry was not aware of the new smuggling techniques but said Tanzania and Kenya had agreed to impose royalties on exported minerals. Kenya's Mining Act, 2016, published last May, imposes royalty rates ranging from one to 12 per cent of the gross sales value of minerals.
But tanzanite traders in Arusha still believe the new legislation hasn't helped. "Bad, the country has lost millions of potential returns because of the trade being done illegitimately," Mr George Obago, a reputable trader, told the 'Daily News.' Just a year after Tanzania banned export of rough tanzanite, the country recorded export revenue of US$38 million down from Kenya and India's $100 and $400 million respectively.
"Impossible, not under my government," an irritated President John Magufuli said in reaction to the report, challenging security agencies to heighten security and bring to task those behind illegal trade.
Security organs in Kenya had not nabbed tanzanite smugglers trying to export the gem to Jaipur, India International Airport (JIA), some 690 minutes by flight --where over 90 per cent of tanzanite is cut and polished.
India's Minister of State responsible for Commerce and Industry, Ms Nirmala Sitharaman, was non-committal when contacted by this newspaper to clarify on her government measures to end illegal tanzanite trades.
However, it is learnt that Indian businessmen who mainly dictate the industry dispatch their middlemen dealers either along Mtendeni Road in Arusha or Kijiweni in Mirerani to collect the blue gemstones.
"They (Indian businessmen) can spend up to three months waiting for the good market in Arusha," Mr Godlisten Nyange, a tanzanite dealer based in the northern Tanzania city, claimed, adding that a large number of Indian traders living and doing business in Jaipur and Mumbai are involved in the gem's smuggling.
It has been alleged that Maasai herdsmen use the Maasai Mara and Serengeti border routes to smuggle the rare stone outside the country. It has been pointed out that such rampant smuggling have made it difficult for Tanzania to keep proper statistics of the gem, which is only found in Tanzania.
A Maasai traditional leader, Mr Benedict Olumolo, said when reached for comment that the claims have served as an alert and that he will communicate with the tribe's communities to refrain from being used in the illegal trade.
Kenya's Narok County Commissioner, Mr Moffat Kangi, told the 'Daily News' that his government had announced a ban on tanzanite and its trade in Loita last month partly to complement Tanzania's plan to end the largely under-the-carpet business.
Observers described the Kenya's decision as a mere political statement.
"The business is just allowed for those with valid licence, yet tanzanite is still traded in the black market," a gemstone and jewelry trader based in Nairobi told the 'Daily News'.
It is estimated that tanzanite worth 35.855bn/-, equivalent to 16.3 million US dollars, is exported through illegal routes, denying the government of appropriate revenue in levies and taxes each year. Unscrupulous traders and miners transfer the rare gems from Mirerani by using private cars to Maasai Mara where the mineral is packed and transported to Kenya by herdsmen.
The Commissioner for Minerals in the ministry, Mr Paul Masanja, announced that the government would tighten the noose on mineral smugglers by building a fence to regulate entry into a 10-sq km area.
To date, the directive had targeted private cars -- and inspection remains very optional. Also, the only available police post does not inspect vehicles and people for any possible tanzanite possession.