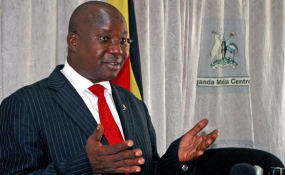 Photo: The Monitor
By Prisca Baike
Activists have condemned junior ethics minister Simon Lokodo for his crusade against lesbian, gay, bisexual, transgender and intersex (LGBTI) relationships, in Uganda.
Recently, the police, led by Isaac Mugerwa, DPC Kabalagala police station stormed a private party organized by the LGBTI community at club Venom in Kabalagala, Kampala, arresting 16 people.
In a subsequent statement, minister Lokodo said the gathering was illegal as police was not aware of the party, which he alleged was aimed at promoting homosexuality. However, Frank Mugisha, the executive director of Sexual Minorities Uganda, said police was aware of their "pride week" festivities, which broke no law.
"There is no law that forbids us from holding parties," said Mugisha, one of the people arrested. "The law only condemns the sexual act and there was nothing of that sort at any of our parties."
According to Asia Russell, the executive director of Health GAP, an HIV advocacy organization, Minister Lokodo's response was shocking.
"A cabinet minister who publicly pledges to incite criminal acts, in this case, mob violence, has no place in government," Russell said of Lokodo's threat to incite a mob to attack the LGBTIs if they insisted on having the gay parade.
"He is lying about the raid itself. His claim that no one was hurt and that the celebration was illegal are completely false."
Narrating his ordeal, Mugisha, who spent about 90 minutes in police custody, said: "I was dragged and shoved under the seats of the patrol car. The policeman who sat right above me kicked me hard on my head and kept his foot on my head until we reached the police station."
Mugisha said that one man had leapt out of the window of the fourth-floor and broken two spinal bones. The man, who did not want his identity disclosed, reportedly needs at least Shs 17m for surgery. He promised to continue dialoguing with government on issues concerning LGBTIs.