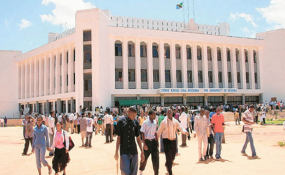 Photo: The Citizen
By Lydia Shekighenda
The government has suspended loans for 2,192 students from various universities who did not show up for verification and ordered their respective institutions to return the funds amounting to 3.9bn/- they have been receiving for them within seven days.
It, however, noted that the loan suspension involves students who did not show up for verification due to various reasons, but failed to report to their respective universities.
Education, Science and Technology Minister, Professor Joyce Ndalichako, told reporters in Dar es Salaam yesterday that all the affected students were given enough time for the exercise.
The verification team was forced to repeat the exercise by involving class representatives, according to the minister.
"Despite efforts taken to ensure that all students are verified if there will be any one who failed to show up due to some reasons and did not report to their respective colleges, will no longer benefit from the service and will be required to reapply," Prof Ndalichako noted.
Prof Ndalichako added: "We believe that the 2,192 students are ghost one ... but due to inconveniences encountered during the exercise, the government had to incur more cost and provide enough time to ensure that all students are verified to prove their legality to continue benefiting from the loans."
She said that the exercise conducted between May and July, this year, in 31 higher learning institutions, out of the 81 in the country, discovered that the students were paid a total of 3.9bn/- in the 2015/16 financial year.
She, however, noted that the verification exercise in 31 universities call for further investigation and verification of previous beneficiaries to establish the amount paid to unqualified students.
"The government will be forced to conduct thorough investigation basing on the findings of this exercise, which has discovered that there are some graduates and discontinuing students who have still been getting loans since 2013/14," she pointed out.
Prof Ndalichako also directed higher learning institutions to put in place a good record keeping system that will allow access to students' information related to registration, education performance and bank accounts where the loans are channelled.
"The government will also take disciplinary measures to all people who facilitated payment to the ghost students and this will include employees of Higher Learning Students' Loans Board and respective universities," she noted.
She, however, noted that during the exercise, the verification team encountered a number of challenges such as ignorance by students, thus forcing the work to be conducted more than once, bureaucracy in getting banks records to establish the amount paid to unqualified students and difference in keeping students' records.
The minister revealed that universities whose students were not verified and the amounts disbursed as;the University of Dar es Salaam (350), which was paid 703m/-, University of Dodoma (364) 461m/-, St Joseph University Dar es Salaam Campus (200) 409m/-, Sokoine University of Agriculture (235) 388m/-, St John University Dodoma (164) 295m/- and Kampala International University (83) 173m/-. Others are Institute of Finance Management (85) 147m/-, Dar es Salaam University College of Education (84) 146m/-, Theofilo Kisanji University - Mbeya (47) 145m/-, Ruaha Catholic University (54) 133m/-, Mwenge Catholic University (58) 118m/-, St Augustine University - Mwanza (100) 118m/-, University of Arusha (34)81m/-, College of Business Education - DSM (27)66m/- and University of Bagamoyo (27) 64m/-.
Prof Ndalichako further mentioned other universities as Sebastian Kolowa Memorial University (23) 58m/-, University of Iringa (22) 58m/-, Mzumbe University (29) 48m/-, Muslim University of Morogoro (30) 44m/-, St John - DSM (16) 33m/-, Jordan University College- Morogoro (50) 30m/-, Catholic University of Health and Allied Sciences (10) 27m/- and Mkwawa University College of Education (13) 22m/-.
The rest are Arusha Technical College (11) 20m/-, Mount Meru University, Arusha (10) 20m/-, Tumaini University, Makumira (11) 15m/-, Moshi Co-operative University (6) 14m/-, St Augustine's University - Arusha (33) 12m/- and Institute of Accountancy Arusha (16) 8m/-.
During the 2015 general election campaigns, President John Magufuli promised to enhance loans issuance to higher education students.
After taking office in November, last year, the president directed the Loans Board to be provided with additional 132bn/- in the academic year that ended June, a move that saw the number of beneficiaries rising to 122,786 - who were allocated 461.1bn/-.
In February, this year, Prof Ndalichako terminated employment of the Higher Education Students' Loans Board Executive Director, Mr George Nyatega, for improper handling of loans amounting to 3.2bn/-.
She also suspended the board's Director of Administration and Finance, Yusufu Kisare, Director of Loan Repayment, Juma Chagonja and Director of Loans allocation, Onesmo Laizer.
According to Prof Ndalichako, the decision follows unsatisfactory performance on the part of the board and recurring complaints from students and parents on haphazard loan disbursements and delays in accessing the same without genuine reasons.
She further said that HESLB has failed to give an explanation on an audit query raised in the Controller and Auditor General (CAG) report for 2013 until the ministry summoned them last month.