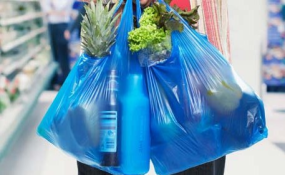 Photo: The Citizen
Dar es Salaam — The government has reiterated that it won't back down on its decision to ban the use of plastic bags effective January next year.
Owners of plastic bags manufacturing factories have been advised to take steps towards easing production before the deadline and invest in production of alternative bags and plastic waste recycling facilities.
This assertion is contained in an advertisement posted on various media outlets yesterday by the Vice President's Office.
In April this year, the minister of State in the Vice President's Office (Union Affairs and Environment), Mr January Makamba, told the National Assembly that the government would impose a total of ban on the use of plastic bags.
"We are warning industries that stern action, including closure will be taken against those who will be caught manufacturing plastic bags," said the minister.
He said that in instituting the plastics ban plan, the government revisited the 2006 regulations on the production, importation, sale and use of plastic bags which, among other things, disallows the use of bags that are below 30 microns.
According to the advert, the government wants relevant authorities and industries to take steps to ensure that by January next year the production, importation, sale and use of plastic bags in the country ceases.
Plastic bags affect environment by, for instance, blocking sewerage and water drainage infrastructure, causing floods during rain. The bags damage ecosystems and biodiversity due to plastic bags, endangering human health when used for packing food in particular hot food.