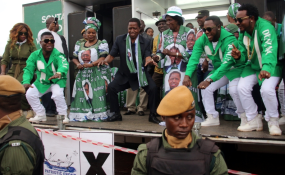 Photo: African Media Agency
The Zambian government on Saturday suspended the inauguration of president-elect Edgar Lungu after the main opposition party petitioned against his re-election.
Lungu was declared winner of the 11 August polls, but the main opposition candidate Hakainde Hichilema of the United Party for National Development (UPND) has challenged the results in court. Secretary to cabinet Roland Msiska has suspended the preparations of Lungu's inauguration, which were underway at the National Heroes Stadium, after the opposition party filed its petition late on Friday.
Lungu was scheduled to be inaugurated next Tuesday. Various local media reported that workers were found packing their tools after receiving instructions that the inauguration has been suspended.
According to the amended constitution, the inauguration of a president-elect cannot take place if there is a petition challenging the results. On Friday, presidential spokesperson Amos Chanda said Lungu would abide by provisions of the constitution with regards to his inauguration after the main opposition party filed its petition. The opposition parties have also called on Lungu to step aside in line with the constitution, which states that a president-elect should step aside if there is a petition while the speaker of the National Assembly temporarily takes over. Lungu polled 1,8 million votes in a tight election contest, while the opposition leader polled 1,7 million votes. The opposition party has challenged his re-election, alleging fraud and malpractices in the vote count. The court will decide the matter in 14 days, according to the constitution.
Nampa-Xinhua