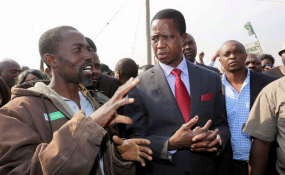 Photo: Zambia Reports
By Peter Adamu
President Edgar Lungu yesterday visited Bauleni compound to check on a market that was destroyed by fire in a suspected political violence crime allegedly perpetrated by opposition supporters.
Majority of resident of Bauleni, which is in Lusaka Central, voted for President Lungu and his parliamentarian candidate Margret Mwanakatwe. Today, the woke up in shock to find property worth millions of kwacha brought to ashes.
Preliminary investigations suggest petrol bombs were used in setting the market ablaze. The country has experienced pockets of violence in various areas after a tight election the opposition disputes President Lungu won.
BELOW IS A STATEMENT FROM PRESIDENT LUNGU AFTER VISITING BAULENI
This afternoon [yesterday], I visited Bauleni market in Bauleni compound which was burnt last night [Monday night]. I am very saddened with the ongoing attempts to eradicate the peace our country has enjoyed, Zambians are peaceful people and what is happening now is not part of our culture which lies on the bedrock of Christianity.
I assure every victim of this incidence that I will look into your plight. The police are also undertaking an investigation and every person found guilty will be brought to book.
Let us continue to pray for God's guidance and protection and be united as a people.