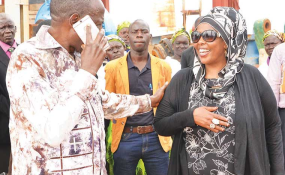 Photo: The Observer
By Stephen Otage
Kampala — Industrialist Maggie Kigozi has urged Ugandan women business leaders to harness business incentives that regional governments have provided to expand their businesses beyond borders.
Speaking at a regional symposium and recognition awards dinner for the most influential women in business and the government last Friday, Ms Kigozi said one of the main incentives they have been given is security.
"Our biggest asset is security. Without security, there is no business. We have economic stability. Inflation has been curbed, administrative barriers have been removed, we have a working civil service and technology is helping us bypass the bureaucratic administration," Ms Kigozi said.
She said with such basic necessities, there was no reason why women should not join the intra-Africa trade beginning with the East African Community and spreading their wings to the Common Market for Eastern and Southern Africa.
"Aminah Hersi started in Kenya and she is now in Uganda. [Julian] Adyeri has a bakery in South Sudan, Victorious Educational Services has students from all over the region, Kampala University is in Rwanda, Nairobi, Tanzania and so is Serena hotel; there is free movement of goods and services," Ms Kigozi said.
Ms Hersi is the chief executive officer of Horyal Investment Holding, a company behind Oasis Shopping Mall, among other business ventures.
Speaking to the beneficiaries of the awards, Ms Hersi told the women to brace themselves for a brighter future because it is a God-sent blessing.
"Since 2008 when I was nominated the best woman investor, this month has been special for me. The UN nominated me to go to Somalia and speak to the Somali women and I was shocked. The whole of Somalia wanted to come and see me," she said.
According to Annelize Wepener, the chief executive officer of CEO Holdings, the organisers of the event, this is the 16th year that they were scouting for and recognising women and men who are leading and achieving in their regional sectors.
THE WINNERS
Some of the winners of the CEO awards include Kate Ssanyu Kikule, the executive director of National Drug Authority, Patricia Ojangole, the managing director of Uganda Development Bank, Miriam Magala, the executive director of Insurance Institute of Uganda, Prudence Ukkonika, the founder Bella Wine.
Others include Winne Olive Lawoko, Jacqui Mwekatete Sebageni, Jean Kantu Kamya Else, Rosette Chantal Rugamba, Deidrah Mcaulay Dodod, Donatha gihana Josephine Kanaabo, Dr Ngaite Nkomo Mgeni and Rehmah Kasule.