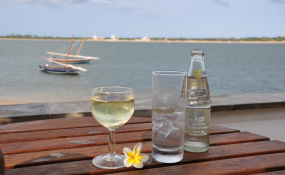 Photo: Lauren Everitt/AllAfrica
By Timothy Kitundu
Dar es Salaam — Dar es Salaam is set to host the 4th Annual Africa Hotel Expansion Summit and Hospitality Roundtable this week at the Julius Nyerere International Convention Centre in Dar es Salaam writes TIMOTHY KITUNDU.
"Tanzania is a top travel destination, not only within Africa but also globally. Many international chains have invested in Tanzania and the country is steadily becoming more influential within the region.
"We saw it fit to conduct this year's summit in a country with significant and untapped potential within the hospitality sector," Ms. Lieve Noppen, COO of Noppen Group of LNoppen said last week.
The prestigious annual conference is being hosted under the stewardship of international conference management company, LNoppen, and hospitality consultancy company, HD Partnership with the slogan 'Empowering Investment and Supporting Sustainability'.
Over 200 international executives and experts within the hospitality industry will gather to discuss key issues within the sector. trade-related development assistance.
The two companies have signed a strategic alliance to join forces in the organization and management of the summit in Tanzania whereas executives and stakeholders of the hospitality industry are invited to gather in Tanzania for this year's conference.
Other countries to host the summit in the previous years were Ghana in 2014, Senegal in 2015, and Nigeria in January 2016.
Over the two days, the summit will focus on a broad range of topics relevant to the business of hospitality and tourism such as revenue management and return on investments; recruitment and human resource; ensuring better guest experience; and tourism competitiveness in Africa.
Various panels will also be carried out alongside many case studies and various country focused presentations.
The welcome address of the event will be delivered by Major General Gaudence Milanzi, Permanent Secretary of the Ministry of Natural Resources and Tourism, who will share insight on government incentives and policies for investors in Tanzania.
Speaking on the relevance of the summit, Meelis Kuuskler, Founder and Managing Director HD Partnership said, "This is the first time for Tanzania to host such a high level international hospitality conference, that will not only promote Tanzania as a tourist destination but also expose the country to the global investment and development community with message that 'Tanzania is open for business."
Stakeholders of the hospitality and tourism industry and those interested in attending the summit are requested to note that registration will be open until September 6th, 2016. In order to register and get access to the programme and more information, kindly visit africa.hotelandresortsummit.com.
LNoppen Group is a leading international company facilitating business across Asia, Europe, Africa and Latin America. Driven by the desire for excellence and supported by an unparalleled understanding of the Asian, European, African and Latin American markets, LNoppen Group has delivered exceptional events, assisted new market entries and established government relations since 1998.
HD Partnership an international hospitality consultancy, works with clients - owners, investors, hospitality brands and management companies - to drive tangible results in the shaping, developing, financing, and operations of small and large hospitality projects.
With offices in Dubai, HD Partnership relocated to Tanzania in 2014 to support the growth of a vibrant and sustainable hospitality and tourism industry across East Africa.