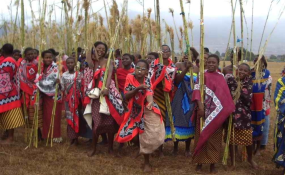 Photo: IRIN
The KwaZulu-Natal government said it was ready to host the 32 nd annual Umkhosi Womhlanga (Reed Dance) at eNyokeni royal palace in Nongoma, northern KwaZulu-Natal, at the weekend.
Provincial Department of Arts and Culture spokesperson Lethukuthula Mtshali said on Monday that 242 buses were expected to transport "maidens" from across KwaZulu-Natal's districts to the palace.
Girls and young women from Gauteng and Mpumalanga were also expected to attend the ceremony.
"[In order to transport maidens] all transport suppliers must have provided their licences, permits and insurance documentation [passenger liability] for validity checking. Districts that have organised their own transport have been advised to carry out thorough inspections to ensure the road worthiness of the vehicles they will provide."
Mtshali said the department would be working with the Royal Household, the Department of Transport and the police to ensure the safety of the young women.
"Alcohol is not to be brought into the venue. Authorities will conduct random roadside breathalyser tests."
Thousands of young women will present their reeds to Zulu King Goodwill Zwelithini on September 9 and 10. He will deliver a speech on September 10.
Mthsali said the three-day event would include an expo to expose the young women to possible career paths, as well as to advise them on the critical skills needed in the fields they wanted to enter.
KwaZulu-Natal Arts and Culture MEC Bongiwe Sithole-Moloi said: TThis ceremony remains sacred to many and we will continue making sure it takes place on an annual basis. We will work tirelessly with the various law enforcement agencies to look after the flowers of our nation during the duration of the event."
The event is expected to be covered on SABC platforms for the first time in history.
Last year, President Jacob Zuma's bodyguards had to whisk him away from the ceremony at the palace after "demons" allegedly attacked the girls.
According to a Mercury report, Zuma was escorted from a soccer field where he was meant to share the stage with Zwelithini in addressing them.
Last August, 38 young Swazi women were killed on the Mbabane-Manzini highway while on their way to cut reeds for the Umhlanga reed dance.
The Times of Swaziland reported that the accident involved two trucks carrying the girls and a Toyota van. The first truck crashed into the Toyota van after traffic police had stopped it. The second truck then crashed into the first truck.
In 2013, 11 people, including seven girls, were killed when their bus crashed near Melmoth, on the R66. They had attended the annual Reed Dance in Nongoma and were returning home to uMzumbe, on the KwaZulu-Natal South Coast.
Source: News24