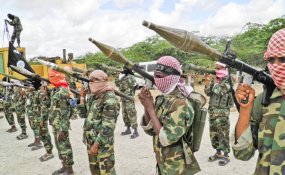 Photo: The Star
Al-Shabaab fighters retook the control of southern Somalia's small strategic town of Budbud area, located in the outskirts of Elbur district in central Somalia from SNA and AMISOM.
The Al Shabaab fighters moved in the area on Wednesday morning after hours-long gun battle and shelling on Budbud, where Somali and Ethiopian troops had bases.
The Somali troops who vacated the town have retreated back to a nearby Moqokori village, where reports say they are planning a new counter-attack to regain control of the area.
Local residents said Al Shabaab fighters with fighting vehicles moved in the town Saturday morning, seizing the police station and the main administrative headquarters.
Al Shabaab militants hoisted their flag on the top buildings and lectured residents to inform them their comeback, according to the anonymous resident.