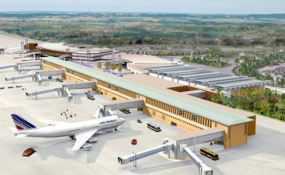 Photo: The Citizen
By Valentine Oforo
Dodoma — The ongoing expansion of Dodoma Airport is expected to be completed this week, thus allowing big airplanes to land and take off.
Regional authorities have expressed satisfaction with the speed at which the contractor is implementing the project, saying the work will be completed as per set contractual period.
Upon completion, the airport will be able to receive nine or ten flights from various countries across the world on daily basis, according to the air traffic assistant controller at the airport, Mr Emmanuel Kisumo.
In an interview with The Citizen here yesterday, Mr Kisumo said before the major renovation, the airport used to serve for only two to three planes per day.
He said the expansion would also pave the way for planes with the capacity of between 70 and 90 passengers to land and take off at the airport.
Mr Kisumo said the renovation was part of the government's initiative to shift its seat from Dar es Salaam to the designated capital.
"This demonstrates President Magufuli's commitment to move to Dodoma," said Mr Kisumo.
A few months ago, Dr Magufuli announced that his fifth phase government would be fully operational in Dodoma within the next four years.
For his part, an official of Tanzania Airports Authority (TAA) Mbila Mdemu, who supervises the implementation of the project, disclosed some of the flights that can land at the airport as ATR42 42 (50 passengers), Dash 8 (50 passengers), ATR 72 (70 passengers) and Bombardier (76 passengers).
The airport's expansion is funded by the government at a cost of Sh11.8 billion. Upon completion, it will increase the volume of passenger and cargo traffic to the Central Zone regions.
Recently, Prime Minister Kassim Majaliwa said, when laying the foundation stone for the expansion, that big planes could be able to land at the airport after the renovation.
President Magufuli is expected to officiate at re-opening ceremony of the Dodoma Airport later this month.