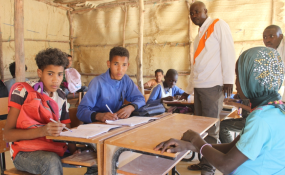 Plan International's cash-for-work project is providing conflict-affected parents in rural Mali with the income they need to ensure their children's right to a quality education is met.
Mohamed, 15, lives with his parents and his 8 brothers and sisters in Kel Assouk community in Gourma-Rharous, in the region of Timbuktu. In this community, many families rely on livestock for their subsistence.
Mohamed and his family fled their village in 2012 when the armed conflict erupted. They found refuge in the Goudebo camp in Burkina Faso where they stayed for 12 months. During this time, Mohamed did not have access to education.
Once back in Kel Essouk, Mohamed returned to school in form 4. Every morning, he would walk with his friends on a distance of 4 km to reach school. The resumption was more difficult as the school was in a dilapidated condition.
«My school lacked almost everything. The mats that protected us against heat and strong winds were completely deteriorated. When the wind began to blow, we received some sand in our eyes because the floor of the classroom was not coated. It was hard to concentrate when it was hot. In addition, there was almost no benches where to sit", said Mohamed.