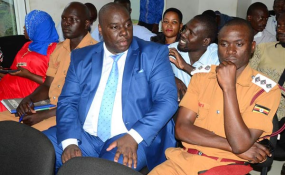 Photo: Daily Monitor
By Anthony Wesaka
Kampala — The remanded Nakawa Division MP has appealed against the recent High Court ruling which upheld his trial in the military court despite being a civilian.
Mr Michael Kabaziguruka is on trial in the General Court Martial on charges of treachery. He is accused of aiding UPDF soldiers in a plot to overthrow President Museveni's government.
In the notice filed in the Court of Appeal on September 21, Mr Kabaziguruka says he is dissatisfied with the entire ruling of High Court judge Patricia Basaza Wasswa.
On September 16, Justice Basaza dismissed the MP's petition which was challenging his trial under martial law when he is a civilian. The judge held that Section 119 of the UPDF Act gives unlimited jurisdiction and powers to the General Court Martial to try even civilians.
Justice Basaza added that unless the Act is repealed or invalidated by the Constitutional Court, the law demands that civilian suspects be subjected to military law if they are liable for aiding and abetting serving UPDF officers to commit service offences.
Mr Kabaziguruka contends that the trial judge erred in law and fact when she found that the court martial had jurisdiction to try him. He says the judge failed to exercise her jurisdiction under article 50 of the Constitution and, therefore, failed to find that he could not have a fair trial in the military court.
Through his lawyer, Mr Ladislaus Rwakafuuzi, the legislator is seeking the Court of Appeal to quash Justice Basaza's ruling and order that the MP's trial in the court martial is null and void.
Mr Kabaziguruka, who is currently in Kigo prison, is jointly charged with 20 UPDF officers for allegedly plotting to infiltrate defence forces to overthrow the government by use of firearms. The offences were allegedly committed between February and June in Kampala, Wakiso and Luweero districts.
The Nakawa MP has never attended Parliament since his swearing-in on May 16 as he has been in prison.
Impact on his office
However, he will retain his seat and continue to receive salary but cannot get other emoluments such as sitting allowances which are based on MPs' attendance of proceedings in the House or travel allowances for legislative work out in the field.
Mr Chris Obore, the Parliament director of communications and public affairs, said Mr Kabaziguruka will continue being a Member of Parliament unless court finds him guilty of the charges against him.
"The Speaker of Parliament is aware of his absence, which absence is that he is a suspect and he is not deliberately dodging Parliament sitting. He can only lose his seat if court finds him guilty," Mr Obore told this newspaper by telephone yesterday.