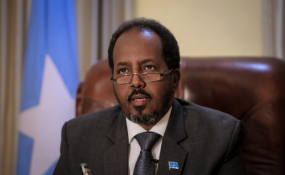 Photo: UA-ON/Stuart Price
By Fred Oluoch
Somalia has postponed its presidential and parliamentary election dates by a month due to clan disputes, security threats and unpreparedness, the electoral body said.
The presidential election will now take place on November 30, preceded by parliamentary elections that will be held from October 23 to November 10.
The chairman of the Federal Indirect Electoral Implementation Team (FIEIT), Omar Mohamed Abdulle, issued a statement on Monday evening saying that although substantial progress had been made in the electoral process, the task could not be completed due to political challenges, security, management of the electoral budget, and the Election Dispute Resolution Mechanism, which is yet to commence work.
Other challenges include failure by some traditional elders to submit the list of delegates to take part in the elections, while some clans have disputed the 30 per cent quota for women leaders.
"However, there is breakthrough on the electoral venue for the Hiiraan and Middle Shabelle regions. After extensive discussions, 16 out of the 18 traditional elders agreed that the electoral process for the two regions be held in the capital Mogadishu," said Mr Abdulle.
Following a three-day meeting between FIEIT and the State Indirect Electoral Implementation Team (SIEIT), it was agreed that the Election Dispute Resolution Mechanism should be operational by October 8 to handle issues arising from the polling process.
Besides logistical challenges, the Somalia-based terrorist group Al Shabaab had said they would disrupt the election process and warned the 135 clan leaders selected to chair the voting of legislators not to carry out their designated role.
Mr Abdulle is now calling on the African Union Mission in Somalia (Amisom) to quickly deploy troops to Galmudug capital of Cadaado to ensure that election preparations takes place. The peacekeepers had said they would guarantee the safety of electoral venues.
The voting for the 275-seat parliament was scheduled to start on September 24 and end on October 10, while the presidential election was set for October 30.
A total of 14,024 electors selected by 135 clan elders were supposed to participate in the parliamentary elections.
Each of the 275 MPs will be elected by 51 delegates from the different regions of Banaadir, Hiiraan, Lower Jubba, Mudug, North East, North West, Togtheer and Upper Jubba.
Some 69 federal MPs will be chosen in Baidoa, while the remaining 206 MPs will be selected from Garowe, Kismayu, Mogadishu and Cadaado.