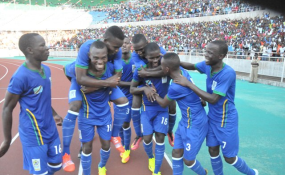 Photo: Yusuf Badi/Daily News
Tanzania will be looking forward to a positive result in their crucial final round second leg clash against Congo away at the Alphonse Massamba-Debat Stadium in Brazzaville on Sunday.
0The 'Serengeti Boys' have a slim advantage thanks to a 3-2 win in the first leg a fortnight ago in Dar es Salaam and are 90-minutes away from a place at the final tournament of the U-17 Africa Cup of Nations in Madagascar next year.
Tanzania coach, Bakari Shime rates the encounter their biggest test and has tasked his players to maintain their winning form and hold their host and earn a historic maiden place at the final tournament of the cadet championship.
"Our opponents, Congo, are physically fitter than us and play tough" said Shime, whose team fine-tuned with a training camp in Rwanda before leaving for Brazzaville.
"We know that it will not be the same game and the same atmosphere as we played in Dar es Salaam. I know they scored two goals in Dar es Salaam and we can do the same in Brazzaville,' he added.
Shime is convinced with his side's preparations ahead of the clash and is looking forward to defending their one goal advantage and making matters difficult for their hosts.
"Psychologically our boys are good; we have the advantage from the home victory. When they are looking for the equalizer, we will also be looking for the chance to score more goals, which is possible.
"Our defence was exposed in the first leg because our two key players, Dickson Job and Ally Ng'anzi were suspended. They are doing fine and possibly they will line up on Sunday and I hope we will have a solid backline," said Shime.
Tanzania sailed through to the final round after eliminating Seychelles 9-0 aggregate at the first round and going past South Africa 3-1 on aggregate at the second round.