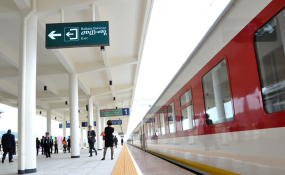 Photo: The Ethiopian News Agency
By Alazar Shiferaw
Prime Minister Hailemariam Dessalegn said the Addis Ababa-Djibouti railway would give impetus to the country's economic transformation. Efforts would be exerted to expand similar railway services to other parts of the country, he added.
Speaking at the inauguration of the Addis Ababa - Djibouti railway Standard Gauge Project at Lebu yesterday, Prime Minister Hailemariam said: "We believe that expanding infrastructural development has a great role in ensuring rapid economic growth and reducing poverty. Without creating modern transport system, it is unthinkable to expand industries and become competitive in the world market."
The Premier further said that the 758-kms railway is fully working with electric power and the first longest railway line in Africa. It connects Ethiopia and Djibouti in particular and East African countries in general. The line supports the country's carbon free economy development.
Hailemariam further said that the line transports the country's import and export commodities within a short time with less expenditure and enhance its global competitiveness. It has a great role in accelerating the development of the manufacturing industry as well, he said.
Apart from strengthening the two country's historical relations, the railway will have a great role in steeping up the two countries' all round cooperation, the Premier.
Djiboutian President Ismail Omar Guelleh on his par said: " I am particularly proud to be here to witness the historic link between our two countries. We have gathered here to revive and transform the railway for it means much both for our peoples and economies."
The President further said that the electrical train will take only seven hours to transport goods and people between our two capitals. " Our peoples joined forces to build this railway and make it a new phase of our relationship."
Commending the contribution of actors involved in the project, the President said: "The railway is vehicle for our economic and social integration and model for the new face of Africa. It is the first and foremost celebration of the abilities of the two countries' working together and overcoming barriers to develop infrastructure in our countries."
Chinese President Special Envoy and Chairman of the National Development and Reform Commission Xu Shaoshi said the railway will be the first and the longest electrical railway in the African continent.
The inauguration of the railway is an important milestone in the development history of Ethiopia and Djibouti. It also further strengthens relations among the three countries and represents Africa-China cooperation.
The Chairman said: " It is a railway of of friendship in the 21st century and will create favorable conditions for investment."