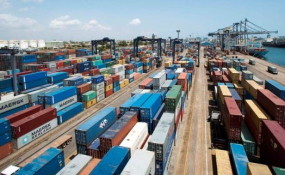 Photo: Daily News
press release
The 3rd Meeting of the Continental Free Trade Area Negotiating Forum (CFTA-NF) kicks off in Addis Ababa, Ethiopia - 03 October 2016
The 3rd Meeting of the CFTA Negotiating Forum kicked off today at the AUC Headquarters in Addis Ababa, Ethiopia. On behalf of H.E. the Commissioner for Trade and Industry, the Director for Trade and Industry of the African Union Commission, Mrs. Treasure Maphanga welcomed the participants to the meeting and recalled the major milestones in the negotiations so far, including the outcome of the last negotiating forum and the Kigali Summit decision on the CFTA.
During the next five days, Member States are expected to consider and adopt Terms of Reference (TOR) for the remaining Technical Working Groups; and to consider and adopt the Modalities for the CFTA Negotiations in trade in goods and trade in services. She seized the opportunity to inform Member States of some very important events on the CFTA programmed during the last quarter of 2016.
Mrs. Maphanga reported on implementation of the last negotiating forum recommendations and with regard to the Kigali Summit decision stated that "The African Union Commission is working with AU Member States, RECs and partners including UNECA and UNCTAD to ensure the implementation of these decisions".
She also informed the meeting that the Department of Trade and Industry will support the AU Member States in conducting the CFTA negotiations through the established CFTA Support Unit. The Unit led by Mr. Prudence Sebahizi, the Chief Technical Advisor on the CFTA and Head of the Unit is expected to provide secretarial and technical support to the meetings of the CFTA Negotiating Institutions as well as other negotiations support structures established by the Member States.
Mrs. Maphanga concluded by emphasizing the objective of the meeting and said "We expect that this meeting of the CFTA Negotiating Forum will agree on the modalities for tariff liberalization, modalities for negotiations of trade in services agreement as well as establish the remaining Technical Working Groups"
Full Speech is available on: http://au.int/en/ti
The Meeting is chaired by Mr. Sayed Elbous, Senior Advisor to the Minister of Trade and Industry Ministry of the Republic of Egypt.
Chief negotiators of AU Member States and representatives of COMESA, EAC, UMA, ECOWAS, CEN-SAD, ECCAS, AUC and UNECA are attending this meeting.