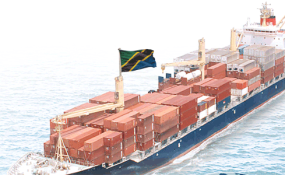 Photo: The Citizen
Dar es Salaam — The Zanzibar Maritime Authority (ZMA) has deregistered 13 of the 50 North Korean vessels that were flying the Tanzanian flag, The Citizen has been informed.
ZMA director general Abdallah Hussein said in an interview on Tuesday that the process to deregister Democratic People's Republic of Korean (DPRK) vessels started in June and was ongoing to ensure no vessel with links to North Korea fly the Tanzania flag in compliance with the UN Security Council sanctions.
The minister for Foreign Affairs minister, Dr Augustine Mahiga, had told The Citizen on Sunday that the ministry would initiate a diplomatic process to ensure that all vessels linked to North Korea are deregistered.
On Monday, The Citizen reported on an investigation showing that more than 50 vessels owned by--or linked to--North Korea, have been using Tanzania's flag since March this year, which were a breach of a UN resolution.
ZMA, through its company, The Tanzania Zanzibar International Register of Shipping (TZIRS), has been according the Tanzanian flag to foreign owned vessels whose owners pay a fee. TZIRS uses agents located around the globe.
If the deregistration started in June as Mr Hussein claimed, then, that hasn't been reflected yet in the Tanzania foreign ships registry, for the investigation carried out by Leo Byrne, a Data and Analytic Director at NK News based in Seoul shows the majority of the vessels that were deregistered by other countries following tightening of North Korean sanctions "transferred their details to the Tanzanian registry, which accepted nearly all the ships between June and August this year."
Mr Hussein expressed surprise over the same thing. "I wonder why Mr Byrne's analysis hasn't reflected ships that we have deregistered," he said.
Mr Hussein said it was for that fact that they hadn't terminated the contracts of any agents who were involved in registering the North Korean ships.
But Byrne's analysis also shows that most of the foreign ship registries have been deregistering North Korean vessels which, in turn, shifted to the Tanzanian registry. "Mongolia announced in a UN sanctions implementation report it had removed 14 DPRK vessels from its registry. Panama--the world's largest open registry--followed suit," said Byrne in a report he published at the weekend.
Mr Hussein said ZMA was considering increasing the frequency and intensity of inspections as well as making the registration criteria stricter to ensure such incidents are not repeated in the future.