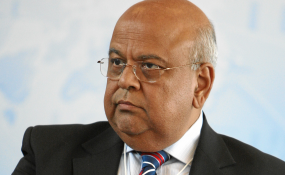 Photo: Wikipedia
ANC chief whip Jackson Mthembu is convinced that Finance Minister Pravin Gordhan is "an honest man," and a wonderful minister.
Briefing media on Tuesday, Mthembu said the ANC in Parliament stood by the party's call for Gordhan to co-operate fully with the investigation.
"I have a lot of respect for comrade PG [Pravin Gordhan]. It does not take away the respect and integrity of comrade PG, from where I stand. I'm convinced he is an honest man. Of course, let's allow the law to take its course," Mthembu said.
This follows news that Gordhan has been served a formal summons, believed to be for fraud.
On Tuesday, the National Prosecuting Authority announced that he has been charged with fraud related to a pension paid out to his former deputy at SARS, Ivan Pillay, and is due to appear in court on November 2.
Gordhan was a disciplined cadre of the movement, Mthembu said, and "many of us respected the honesty of PG".
"We will be with him, some of us, throughout the process."
Mthembu said he was speaking as someone who had served on the NEC with Gordhan, and again reiterated that the finance minister's honesty was respected.
He was looking forward to ANC meetings to discuss the matter, the chief whip said.
The Freedom Front Plus on Tuesday said the decision to summons Gordhan showed a total lack of presidential leadership and held serious complications for the country's economy.
FF Plus MP Pieter Mulder bemoaned the damage the summons would do on the economy.
Source: News24