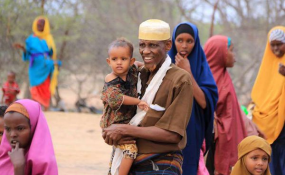 Photo: Jeff Angote
Humanitarian group, Doctors Without Borders (MSF) has called on the Kenyan government and the United Nations High Commissioner of Refugees (UNHCR) to urgently consider alternative arrangements, as the closure of the world's largest refugee camp, Dadaab, draws near.
This came as a report released by the group recently, revealed that at least eight out of 10 refugees indicated that they did not want to return to their home states, citing among other concerns, forced recruitment, sexual violence and lack of healthcare as their main concerns.
"This decision is yet another blight on refugee protection globally, where again we see a total failure to provide safe haven for people in danger. The UN itself has recently declared that five million people are at risk of hunger inside Somalia. Sending back even more people to suffer is both inhumane and irresponsible," says Bruno Jochum, MSF General Director.
The Kenyan government announced in May its plans to close Dadaab refugee camp, which hosted hundreds of Somali refugees.
The east African country's interior minister, Joseph Nkaissery, was quoted at the time as saying that the camp compromised Kenya's security as it haboured Somalia's al-Shabaab Islamic extremists and that it was a conduit for smuggling weapons.
Conflict and acute crisis
The refugee camp was expected to shut down by November.
MSF, however, maintained that the move would leave the refugees desolate and without protection.
"The fears that the refugees tell us about are real," said Liesbeth Aelbrecht, Head of Mission for MSF in Kenya.
"It is crucial that any return is voluntary, and refugees must have all necessary information about the services and conditions that will meet them in Somalia."
MSF had since called on members of the international community to share the responsibility with the government of Kenya so as to ease the burden.
"It is unacceptable that - without any other solution being offered - thousands are essentially being pushed back into conflict and acute crisis: the very conditions they fled," concludes Aelbrecht.
"Kenya should not shoulder this burden alone. Funding from donor countries needs to be directed to providing sustained assistance in the country of refuge, not to supporting what will essentially be a forced return to a warzone."