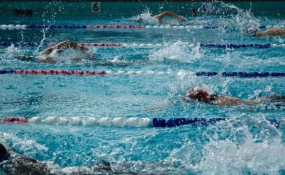 Photo: Daily News
Algerian Rania Hamida Nefsi won the silver medal in women's 400m medley on Sunday, the first day of the 12th African Swimming Championships in Bloemfontein, South Africa.
Nefsi, 18 years old, clocked 5:02.58 behind the gold winner South Africa's Rebecca Meder (4:58.81), and ahead of Egypt's Rowaida Hesham (5:05.51).
In men's events, Lounis Khendriche ranked fifth in 200m freestyle clocking 1:57.67, while the gold was claimed by South Africa's Nyles Brown (1:50.93), the silver went to Egypt's Marwan Al Amrawy (1:51.60) and the bronze to Mozambique's Igor Mogne (1:51.92).