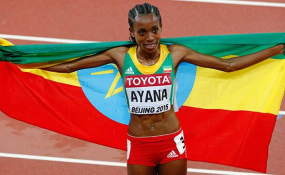 Photo: Capture écran/ facebook
By Victor Chipato
The International Association of Athletics Federations has announced the names of athletes nominated for the World Athletes of the Year Award.
A number of Africans stars have made the cut.
Kenyan athletes are dominating the nominee list with Olympic champions David Rudisha, Vivian Cheruiyot, Eliud Kipchoge and Conseslus Kipruto among the 20 nominees.
Rudisha is the 2012 and 2016 Olympic champion - becoming only the second man ever to retain an Olympic 800m title.
Caster Semenya and Wayde van Niekerk of South Africa are among the nominees after they both walked away with gold medals at the 2016 Rio Olympics. Van Niekerk shattered Michael Johnson's 17-year 400m record in a bistering time of 43.03s.
In a tweet, South Africa's Minister of Sport Fikile Mbalula congratulated the two athletes for being selected among the world's best: "I'm excited and proud that @caster800m and @WaydeDreamer are nominated for the @iaaforg World Athlete of the Year Award. Congratulations".
Almaz Ayana represents Ethiopia in the women's category. In Rio she recorded the fastest time ever for the 10,000m, surpassing the 23-year record of China's Wang Junxia by a whopping 14s.
A three-way voting process will determine the finalists.
The IAAF council and the IAAF family will vote by email, while fans can vote online via the IAAF's social media platforms. The council and its affiliates account for 50% 50% and the public votes will count for 25% of the final tally.
Vote for an African Athlete on Twitter or Facebook.
The list of African Nominees:
Eliud Kipchoge
Olympic champion and London Marathon winner. World Marathon Majors champion. World record at 30km with 1:27:13.
Conseslus Kipruto
3000m steeplechase. Olympic champion and Diamond Race winner. World lead of 8:00.12. Winner of seven out of eight steeplechase finals. Produced the five fastest performances of the year.
David Rudisha
800m Olympic champion with a 1:42.15 world lead, the world's quickest time since 2012. The second fastest of all time at 600m with 1:13.10.
Wayde van Niekerk
400m Olympic champion with 43.03 world record. Unbeaten in 11 finals across three events. African champion at 200m and 4x100m. Other season's best of 9.98A and 20.02.
Caster Semenya
Olympic athletics gold medalist and record breaker
Vivian Cheruiyot
Olympic champion in the 5 000m and silver medalist in the 10 000m event
Almaz Ayana
Olympic 10 000m champion and world record breaker
The nominees for 2016 World Athlete of the Year are:
Men
Usain Bolt (JAM)
Thiago Braz da Silva (BRA)
Ashton Eaton (USA)
Mo Farah (GBR)
Eliud Kipchoge (KEN)
Conseslus Kipruto (KEN)
Omar McLeod (JAM)
David Rudisha (KEN)
Christian Taylor (USA)
Wayde van Niekerk (RSA)
Women
Almaz Ayana (ETH)
Ruth Beitia (ESP)
Vivian Cheruiyot (KEN)
Kendra Harrison (USA)
Caterine Ibarguen (COL)
Ruth Jebet (BRN)
Sandra Perkovic (CRO)
Caster Semenya (RSA)
Elaine Thompson (JAM)
Anita Wlodarczyk (POL)