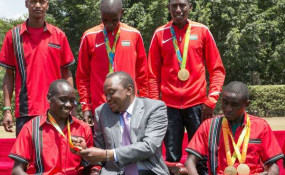 Photo: Daily Nation
By Ayumba Ayodi
President Uhuru Kenyatta has assured that rogue officials would not handle national teams in future.
Speaking on Wednesday at State House in Nairobi where Team Kenya for the Rio Olympics and Paralympics handed back to him the national flag, the President commended them for their sterling performance.
"Congratulations to all of you. Not only to those who won medals but also to every participant. You really made us proud and you deserve praise. "Kenyans are very proud of you. I know you had challenges but that would be discussed at the appropriate time. But the most important thing is that you participated and did well," he said.
The President also directed the Sports ministry and Athletics Kenya to prepare a report on the current status of the reward scheme and present it to him on Friday.
The Head of State promised to deal with the challenges and weakness that were exposed during the Rio Olympic Games so that they do not recur in future.
PROUD MOMENT
The President also commended the teams for living up to their promise by competing and winning clean. President Kenyatta assured the teams that the government would continue supporting them because they are "a living example of what Kenyans should be".
"It was a very proud moment for all of us when we listened to our national anthem being played at the closing ceremony of the Olympic Games. It was important that we were there," he said.
Athletics Kenya President, Jackson Tuwei, who also attended the function, said that athletes are owed close to Sh100 million dating back to 2010.
"It's only last year that we started paying the athletes and thanks to the President for putting his foot down for the athletes to get their dues," said Lt. Gen (Rtd) Tuwei, adding that all the medallists at the Rio Olympic Games have been paid.
"It's sad that although the Rio Olympics were Kenya's best ever, the celebrations were eclipsed by mismanagement of the team. Some top Team Kenya officials have been taken to court over the matter," he added.
At the Rio Games, Team Kenya participated in seven sports; athletics, boxing, swimming, archery, judo, weightlifting and sevens rugby.
Kenya finished 15th overall in the world but topped in Africa at the Olympics with 13 medals, six gold, six silver and one bronze.
Among the gold medallists who were at the State House celebrations were Eliud Kipchoge (marathon) and Conseslus Kipruto (3,000m steeplechase).
At the Rio Paralympics, Team Kenya registered exemplary results, winning three gold medals, one silver and two bronze.