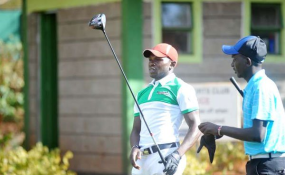 Photo: Chris Omollo/Daily Nation
By Larry Ngala
The national men's golf team left Monday morning for Addis Ababa Ethiopia seeking to re-capture the elusive East Africa Challenge Cup.
Kenya Golf Union chairman Muchau Githiaka led the team constituting of captain Alfred Nandwa (Railway), Daniel Nduva (Nyali), John Lejirma (Golf Park), Edwin Mudanyi (Vet Lab), Robinson Owiti (Vet Lab), Simon Njogu (Great Rift Valley Resort-Naivasha) as well as two juniors Agil Is-Haq (Nyali) and Mutahi Kibugu (Muthaiga).
The team used the weekend's Kenya Amateur Strokeplay Championship at Thika Sports Club as its final build-up for the Challenge Cup.
"Though we have not trained together, the team is made up of very experienced players and I have no doubt that we would play well in Ethiopia, depending on the condition of the course," said Nandwa.
"All of us except Njogu, who has joined the team for the first time, are experienced players," he added.
This year's championship, which bring together five countries; Ethiopia, Uganda, Kenya, Tanzania and Rwanda begins with the official practice round and flag-raising ceremony Tuesday.
The first round singles will take place on Wednesday followed by the foursomes and four ball better on Thursday while the final round singles will take place on Friday.
Kenya, last won the cup in 2013 when the championship was held at the Great Rift Valley Resort Naivasha. Kenya was beaten by Uganda in 2014 and 2015 in Uganda and Rwanda.
KGU vice chairman and team manager Richard Wanjala as well as coach Brian Njoroge accompanied the team.