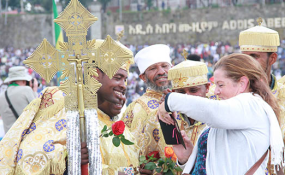 Photo: Addis Fortune
By Eden Sahle
Taking adventurous time to new places in Ethiopia is one of the most treasured experiences you can ever come across. The best part is budget constraints cannot be a hindrance here since you can have the best time of your life without breaking the bank.
Obviously one of the main reasons why people travel to Ethiopia is to explore its world's stunning natural and manmade ancient treasures as well as its wildlife's which are only found in Ethiopia Jumia Travel research found. Ethiopia's exclusive foods are also attractions serving authentic local cuisines from it's over 80 ethnicities. Unquestionably exploring Ethiopia gives one of its kind experiences.
The beaches and the destinations are never crowded enabling you to rest at the sun with peace listening only the beach shores and enjoying the refreshing air breath. The local people share a friendly sense of pride about their culture and history directing you to the best places to stop by.
Located between Africa and the Middle East, Ethiopia offers you best trek all the way to Africa's roof top mountain at Simien Mountains and Ras Dashen. From the Rock Hewn churches in Lalibela to Rock Hewn obelisks in Aksum and Gondar, seriously an adventure to Ethiopia is so unique that you will be talking about for years to come. Everything in this historical and ancient country takes you at an incredible roam keeping you comfortable along the way. Ethiopia is making itself as premier land of the East Africa due to its sights, bites and endless adventures that stays with any traveler for life time.
The place suites any traveler looking for a real exploration and the state of the art museums and the taste of authentic life. Dotted with several best adventures options green fields and forests Ethiopia is coming into its own cultural, natural extravaganza and historical hot spot due to its acclaimed natural wonders including Erta Ale, Dallol and the great Nile River.
Much of this stunning places are still untouched being the favourite of not only the backpackers but also the white-collars. The glamorous country blooms as a new perfect getaway for executive vacation core. The country development also raise the bar to the regional states faraway places turning them into a comfy new hiking trails and a castle stay. A growth powered by modern and cultural artistic architectures and a design renaissance along with one of its kind vibrant city remodeled the country as the best vacation destination in Africa.
With the continent full of fascinating places, picking a perfect destination can seem a challenge. But if you have crafted your vacation bucket list plan in Ethiopia, it has all you need to satisfy all your expectations. Located in the heart of East Africa once overlooked as holiday place redefined itself and proved to the world that it's actually a place of unique natural and culinary paradise. The tourist friendly country has stand out for its hospitality and charm treating vacationers with respect and love creating feel at home atmosphere.
In this country it's not only the destinations that takes your breath away but also it's the hotels and the shopping malls packed with cultural and handmade artifacts. Consider the incredibly luxuries hotels where you can have a royal treatment enjoying the cultural and modern dishes prepared from world class chefs.
Truly what you will find in Ethiopia will surprise you changing the perception you might have had considering the country as a place of hunger and war.
Certainly, there is no more exciting place to take your travel plans to be inspired with so much more of nature's great thing and of course exclusive food.
These are among the countries adventures accompanied with bright warm sun that offers an enormous mix of safari and beach.