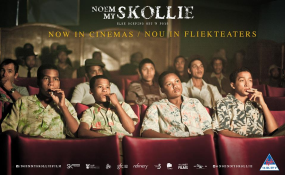 Photo: Noem My Skollie
John W Fredericks, writer of the critically acclaimed Noem my Skollie film, has travelled a long road to bring what many consider the most authentic Cape Flats story to the world.
[REVIEW] "Noem My Skollie' is gripping, slick and well made" @TheCitizen_News https://t.co/WguDpfmgJD
- CALL ME THIEF (@noemmyskollie) September 5, 2016
Via @Netwerk24 : Die 'Skollie' met die stories - John W Frederickshttps://t.co/o7wlDQegi8 pic.twitter.com/gybZJHUIm0
- CALL ME THIEF (@noemmyskollie) September 5, 2016
Noem my Skollie is, according to a host of local and international critics, a riveting film, seeped in authenticity and raw emotion that ultimately celebrates the human spirit.
This is Noem My Skollie's competition at the Oscarshttps://t.co/aSGHcUImdX pic.twitter.com/x2GNmb09Uh
- Channel24 (@Channel24) October 12, 2016
Shawshank Redemption, Tsotsi and City of God, Noem my Skollie follows AB Lonzi, played by Dann-Jacques Mouton, and a group of friends navigating through a world of crime and poverty. After ending up in prison, AB discovers his storytelling talent that uplifts his fellow inmates above the cruel and violent complexities of prison life.
On @Heart1049FM this morning at 08:00 - @noemmyskollie dir @DaryneJ & #JohnWFredericks in studio - tune in! pic.twitter.com/oBfcZPLY18
- CALL ME THIEF (@noemmyskollie) September 1, 2016
Skollie is also the life of Fredericks, who spent part of his youth in the same Pollsmoor Prison of the film, meeting characters both good and bad, and discovering the power of words to prepare him for adult life.
"It's difficult to describe how I survived psychologically," Fredericks told the Daily Maverick in October 2016, "but I became tougher, and more determined to change my life around, and that was not easy."
The powerful local drama @NoemMySkollie retained its place at the top of our box office this weekend. Which of these have you seen? pic.twitter.com/IRxyVYTOpF
- Cinema Nouveau (@nouveaubuzz) October 17, 2016
Writing Studio website in August 2016, "I found a way out of all this as a writer and storyteller."
Before taking up writing full-time twenty years ago, Fredericks worked as a security guard at a Cape Flats high school. Here, he shared his experiences with young people, warning them off a life of crime and gangsterism with the same stories he had heard as a child.
He also gave motivational talks to prisoners, where he met young prisoners eager to change their lives. These talks, coupled with the memories of his own prison experience, gave him the idea to finally put his story on paper, in the hope that its powerful narrative would make an impact on people's lives.
Writing Skollie took time and a toll on Fredericks. "It was a very painful story to tell," he told the Daily Maverick. "As I was writing, a lot of ugly things surfaced in my mind that I had buried deep in my consciousness, and many a time I found myself in tears as I rolled back the curtain of memories."
Yet Fredericks says the story's power is not ultimately determined by its violent gangsterism narrative: "It's about childhood friendship and about loss in adversity… how everyone has a natural gift but how some gifts are harder to find than others. It's the story of my life."
In between writing the screenplay, Fredericks studied screenwriting and filmmaking at the National Film and Video Foundation (NFVF), and collaborated on a series of acclaimed documentaries, including Mr Devious: My life, about the popular Cape Flats hip hop icon and champion of the community, the late Mario van Rooy.
Fredericks gained global recognition with Shooting Bokkie, a biting satirical mockumentary about drug and gang culture on the Cape Flats, and Hard Living Kids: Tomorrow's Heroes, a more serious look at the effects of gangsterism on township youth.
These experiences all built up to the point where he was ready to tell his own story on screen, alongside first-time feature director Daryne Joshua.
Noem my Skollie was produced by Maxi-D Productions, with financing and support from kykNET, NFVF and the Department of Trade and Industry.
The film has officially been entered for selection by the Academy of Motion Picture Arts and Sciences (the Oscars) for Best Foreign Film.
Over 40 000 people in South Africa have seen Skollie, which is currently on circuit. It will be available on DVD and local streaming services in December 2016.
Source: Daily Maverick/Mail and Guardian/Writing Studio
SouthAfrica.info reporter