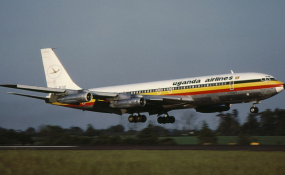 Photo: Daily Monitor
opinion
By William G. Naggaga
My first flight on an airline was on August 5, 1971 on Pan American Airline (PanAm) from Entebbe to New York via West Africa. I was travelling to my first diplomatic posting at the Permanent Mission of Uganda to the United Nations. It was a Boeing 707 and was full all the way to New York. My next flight was in 1972 from New York to Los Angeles on Trans World Airways, (TWA) Boeing 747 whose comfort was unimaginable to an impressionable young man. It was also full to capacity. PanAm and TWA were the premier American global carriers of the day but by the 1980's they had both folded and their places taken over by others. Who would have thought way back in the 1960s and 1970s that such American and global icons like PanAm and TWA would disappear from the skies forever?
There are many airlines globally which suffered the same fate and many others are limping-on or being sustained by government subsidies and bail outs. Airline travel is an indispensable form of transportation today and it is impossible to imagine what the world would be without it. Since the mid-1950s the world became a "global village" and air transport is one of major drivers of this globalisation. In the 1970s when Air France and British Airways introduced the Concord the supersonic jet liner, business executives could fly from Paris (or London) to New York for a lunch meeting and be back home for supper! It was a tragedy that the sleek Concord was grounded for good in 2003, after the horrific crash in Paris, but its collapse was never-the-less eminent, given its limited clientele and limitations imposed on it due to "noise pollution"'.
In spite of its indispensability as a form of travel, airline business has increasingly become a risky and unpredictable business with low profit margins. It is expensive to set up, has high operational costs and is very competitive. There are just too many airlines flying the same routes with incredible frequency. In some busy international airports there is a plane taking off or landing almost every single minute! With such frequency it is not surprising most airlines are not operating optimally; carrying fewer passengers than the minimum necessary to make a tidy profit.
The introduction of budget airlines and charter flights also spoiled things for the big carriers, as they offered cheaper tickets which made air travel more affordable. Richard Branson's Virgin Airlines started as a low budget airline called "Virgin Atlantic" operating from Gatwick Airport, just outside London, to Newark, New Jersey, in the United States. A shrewd British businessman, Mr Branson based his operations in Gatwick and Newark and not the more expensive London Heathrow and New York's JFK.
Virgin Airlines which replaced Virgin Atlantic is now one of major airlines in the world and Richard Branson is a billionaire whose Virgin Empire has diversified into many ventures.
Mr Branson has proved that airline business can be profitable if prudently handled.
Turning to the revival of Uganda Airlines, government should move extremely slowly on this and avoid sentimentality. The arguments given so far in favour of a national airline are weighted more towards national pride and politics than economics. With the possible exception of Ethiopian Airlines which has been flying since the 1930s, all airlines in Eastern Africa and beyond are experiencing economic difficulties and draining national treasuries. The best option would be for the countries in the East African Community to pull resources and revive the East African Airlines which folded in 1977, following the collapse of the community. The alternative of having multiple national airlines flying similar routes is a recipe for disaster.
Mr Naggaga is an economist, administrator and retired ambassador.