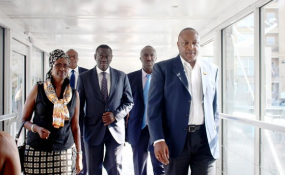 Photo: The Monitor
By Edris Kiggundu
Dr Kizza Besigye is using his latest tour of Europe and the United States to highlight what he says is the deteriorating human rights situation in Uganda, we have been told.
Besigye left the country on October 17. On October 19, he attended a ceremony at the University of Manchester where his wife, Winnie Byanyima, was honoured with a doctorate for her role in advocating for women's rights.
Byanyima, a prominent politician in her own right and former member of parliament, is currently executive director of the charity organisation Oxfam. A day later, Besigye proceeded to Washignton DC, in the United States of America.
Besigye's actual schedule remains a guarded secret but sources within FDC told us this week that the former presidential candidate wants the donor community to come down hard on President Museveni's government over its human rights record.
Particularly, he is angered that donors have stopped at only condemning rights abuses without taking any extra measures.
"He is going to press for tougher action against government. He wants donors to be firm, not to just condemn," said a party official who declined to be named.
The official, however, was not specific about who Besigye will meet and when, but we understand that he will hold meetings with some US government officials, lobbyists and pro-democracy civil society activists during his tour that will last two weeks.
The Observer has learnt that one of the meetings on the cards is between Dr Kizza Besigye and Maria Burnett, the associate director for East Africa at Human Rights Watch (HRW), an American human rights body.
Over the years, HRW has been vocal in its criticism of the government's treatment of Besigye and general violation of human rights. There were news reports this week that Besigye will also make a presentation to the United Nations Human Rights Council in Geneva, Switzerland.
The council, according to the reports, is due to appraise Uganda's human rights record on November 3. Under its complaint procedure, HRC allows individuals, groups or non-governmental organisations to bring to its attention human rights violations they claim to be victims of or have reliably proven.
Uganda's own statutory human rights watchdog, Uganda Human Rights Commission (UHRC), on October 6 wrote to Besigye affirming that it had investigated some of the complaints he raised to them, such as unlawful detention and infringement on his freedom of movement.
"The foregoing allegations if proved, constitute a violation of your rights to personal liberty, freedom from torture, cruel inhuman or degrading treatment, freedom of conscience, expression... be informed that the matter has been set down for hearing against the attorney general's office in its various capacity and we shall duly notify you of the hearing date," noted the letter signed by Gordon Mwesigye, the secretary of UHRC.
We also understand that Besigye could hold meetings with unspecified officials of the World Bank's Africa division. We don't know the agenda of the meeting but in a tweet, he shared with the World Bank on October 26, Besigye said there cannot be business reforms in Uganda unless the political and economic situation changes.
In August, the bank withheld about $1.5 billion (Shs 5 trillion) to Uganda in loan support saying the country's loan absorption capacity was very low. This is the second time Besigye is touring Europe and USA in slightly over a month.
In September, Besigye attended the Ugandan North American Association (UNAA Causes) convention in Los Angeles and later travelled to the UK for the Investment Forum.