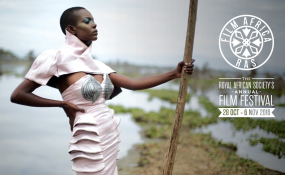 Photo: FilmAfrica/Twitter
The Film Africa film festival, hosted by the Royal African Society, is considered the premier global film event for showcasing African filmmaking. Held this year in London from 28 October to 6 November, Film Africa will feature 52 features, short films and documentaries from 22 African countries.
The selection of African-produced and African-themed films will be supplemented with a series of discussions by actors and filmmakers as well as with exhibitions by African production companies. Professional workshops, live music events and industry seminars will also all highlight film, art and culture from the continent and its diaspora.
The best new Nigerian cinema @FilmAfrica this year! https://t.co/EYJQx6kWSL #FilmAfrica16 @kunleafolayan @niyiakinmolayan @femiodugbemi pic.twitter.com/fMUZ1Eblb0
— Film Africa (@FilmAfrica) October 11, 2016
Why I'm Here: Stories of Migration. It comprises a collection of personal film narratives that reflect the intricacies of migration, political asylum and other challenges faced by Africans living outside Africa.
@FilmAfrica explores the Somalian refugee experience in A Stray by @Musasyeed https://t.co/l9NrxOPDIk @SomaliWeekFest pic.twitter.com/Nvgt1rQqlt
— Film Africa (@FilmAfrica) October 19, 2016
The film biography of struggle icon Solomon Mahlangu, titled Kalushi will open the festival. The film looks at Mahlangu's life during the 1976 Soweto student uprising, as a soldier in Umkhonto we Sizwe and the influence he had on the fight against apartheid. A post-screening discussion with director Mandla Dube and star Thabo Rametsi will also unpack his influence on contemporary protests such as Fees Must Fall.
Catch our very own @ThaboRametsi with Minister of @ArtsCultureSA @NathiMthethwaSA on @MorningLiveSABC today #Kalushi pic.twitter.com/33BzXx7bT3
— #GoSeeKalushi (@KalushiMovie) September 22, 2016
Sarafina, starring Leleti Khumalo and Whoopi Goldberg. It will be shown along with a companion piece, a new documentary called Soweto: Times of Wrath, which looks at the influence of the 1976 generation on young Sowetans today.
The screenings will be followed by a discussion, led by the six young filmmakers involved in the documentary, on the state of human rights in post- apartheid South Africa and how communities are taking action to have their voices heard.
Also on at the festival is British director Amma Asante's A United Kingdom, a film about the love affair between Botswana's first democratic leader, Seretse Khama, and British office worker Ruth Williams. The film is courting a lot of 2017 Oscar buzz, thanks to powerful performances by stars David Oyelowo and Rosamund Pike, as well as meticulous cinematography that convincingly captures Africa and its people.
David Oyelowo e Rosamund Pike em posters internacionais de A United Kingdom. pic.twitter.com/OCatJasoZd
— Cinemito (@cinemito) October 26, 2016
Wùlu, a Mali-France co-production. A political thriller set amidst the 2012 Mali political rebellion, the film blends elements of traditional African storytelling with fast-paced action.
Wùlu , a Film by Daouda Coulibaly. Starring Ibrahim Koma & Inna Modja . pic.twitter.com/mKwLbMTEoZ
— Inna Modja Official (@Innamodja) September 15, 2016
Source: Film Africa festival 2016
SouthAfrica.info reporter