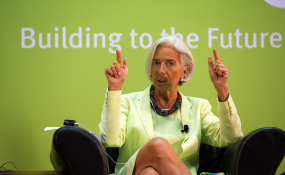 Photo: Stephen Jaffe/IMF
By Joseph Hanlon
In a week of rapid action, Mozambique released its debt report Monday October 24 and presented it to creditors on Tuesday and appealed for renegotiation of debt held by banks and other investors. The Financial Times (FT 25, 27 Oct) reported that borrowers gave the proposal a "thumbs down" and that the price of the tuna bonds had dropped from 81.2 US cents to $1 of face value of the bonds on Monday down to 60 US cents on Wednesday.

Bondholders told the FT that Mozambique's plan to get a deal with private creditors by the end of the year before negotiations with the IMF in January was "unrealistic" and that "complex negotiations are expected". Government told bondholders Tuesday that it has appointed Lazard and White & Case to advise on restructuring and asked creditors to form negotiating committees.

Prime Minister Rosario confirmed to parliament Wednesday that the government has asked creditors to restructure the debt.

The Jubilee Debt Campaign said Friday "We suspect some of Mozambique's private external debts have already been bought by vulture funds, and they are owed under English law." Under a 2010 UK law, countries are protected from vulture funds, but only for loans granted before 2004.
Essential audit moves forward
New IMF representative Ari Aisen confirmed 25 October that there must be an independent external audit of Mozambique's secret debt. Then the debt must be made sustainable. Third, he stressed that "certain priority public spending must be protected so that the social situation of the most vulnerable people does not deteriorate." (O Pais 26 Oct)
In a press conference on 27 October, Gerry Rice of the IMF Communications Department confirmed that the IMF cannot lend money to Mozambique while it is in "debt distress". Rice said "we cannot disburse funds in a situation where we think the debt is not sustainable." He also underlined the demand for an audit which "would be conducted in an independent way by a reputable international auditing company" and that "we expect the terms of reference for this audit to be completed soon." Rice also confirmed that the IMF will continue discussions with Mozambique while the audit is under way and will not wait until the audit is complete.
Prime Minister Carlos Agostinho do Rosario told Parliament 26 October that the Attorney General's Office will soon launch a tender for an independent international auditor to audit the three secret loans.
Comment: All IMF statements demand an independent external audit, and some have demanded that it be made public. But the IMF has also agreed that the audit can be carried out under the Attorney General's office. And it is interesting that the IMF has never demanded prosecutions once the audit is done. Is there an implicit deal to follow the pattern of Banco Austral nearly two decades ago, where there was a forensic audit but there were no prosecutions and members of the Frelimo elite were never sanctioned? jh