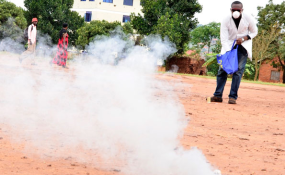 Photo: Daily Monitor
By Blanshe Musinguzi
Samuel Mugarura aka Falcao, 23, a third year student of Bachelor of Chemistry and Botany at Makerere University came to light on September 25 after unveiling what he claims to be locally made teargas. He is the first Ugandan to make teargas.
Infamous for its role in aiding security agencies to disperse protesters in Uganda, those who have inhaled teargas can vividly recount its impact on their lives.
Mugarura is among the many Makerere University students who have found themselves on the receiving end-choking on teargas whenever they stage a strike protesting university policies. Hardly a semester elapses without students going on strike at Makerere University -often touted the Harvard of Africa and ranked among the best universities on the continent.
Inspiration
In February 2014, Makerere University students went on strike protesting against a university tuition policy that mandated them to pay 60 per cent of the tuition fees at the start of the semester. It was during this strike that Mugarura after inhaling "too much teargas" picked an empty teargas canister and went for research and several trials which would later result into his "teargas innovation."
"The strike was so intense and police several teargas canisters. The teargas canisters were all over the campus. When I picked one, I checked its ingredients, packaging and decided to give it a try," he recounts.
He says he underwent seven trial trials before getting it right. On the first attempt, smoke did n0t come out because he failed to balance the "ratio, molarity and basicity of the ingredients." Mugarura says he used powdered chili, potassium nitrate, sucrose and potassium chlorite, sodium hydrogen carbonate and ethanol. And he says he has spent more Shs2.4m on purchasing these ingredients.
Mugarura's dream is to join the army where he believes he can make a big contribution: "I have always wanted to become a soldier. I want a scholarship to go and specialise in making explosives so that I can come back and serve my country."
The innovation earned him a nod from Makerere University vice chancellor Prof Ddumba Ssentamu who calls it a "great innovation." Mugarura has also been applauded by Internal Affairs minister Maj Gen Jeje Odongo who said "science and innovation are very welcome, especially if they are done by Ugandans."
Makerere University guild president Roy Ssemboga says as students' leaders, they are going to offer Mugarura all the support they can.
"Innovations are breakthroughs and we are glad that this country has been spending a lot of money importing teargas. If our own can save government from that expenditure, he should be given direction to become productive."
Academics and discipline
But that is far from the picture as the police has labelled him a criminal. Kampala metropolitan spokesperson Emilian Kayima said police had confiscated a teargas canister from Mugarura's residence, which the government chief chemist is analysing to establish its contents. Police spokesperson, Andrew Felix Kaweesi said Mugarura "is a wanted criminal with two cases at Wandegeya Police Station."
He admits that police confiscated an empty teargas canister from his room, detained and later released him, however, he maintains his innocence.
"Criminals kept in Luzira, they don't stay in public. Let them take me to court if there a case against me."
He claims the police is out to taint his otherwise good image. "You see when they arrest someone smoking weed, they take them to court. When I came with my innovation, that is when Kayima (Kampala metropolitan spokesperson) started to say that they had checked my room and confiscated marijuana and teargas canisters. I challenged them to take to hospital and check my blood. I don't take weed."
But that is not the only controversy in his life. Although he is supposed to graduate in 2018, Mugarura has accumulated three retakes and four missed papers.
"After missing medicine, I became depressed and as a result lost interest in the course that the university offered me," he says adding "I have always wanted to do something viable for myself, my family and my country, that is why I decided to start this project."
He quickly adds that he is going to do all it takes to ensure he graduates in time.
Mother's take
"I am asking government for help because I hear it's expensive to make those things (teargas) and we don't have money. He is disciplined and a bright student," Molly Kyoheirwe, says.
Whether Mugarura's innovation will see the light of day is subject to debate.
AMOUNT OF MONEY MUGARURA HAS USED TO BUY INGREDIENTS
2.4 million
Source
Samuel Mugarura